Pony for Sale
Name Woodlander Sir Gorgeous 
Breed: WBS-UK (British Warmblood)
Date of Birth: 1 May 2012
Sire: Woodlander Santana
Dam: Synod Galina
Gender: stallion - licensed with SPSS
Height: 148 cm
Bred by Lynne Crowden of Woodlander Stud, the breeder of Young Horse World Champion Woodlander Farouche, the 9-year old licensed stallion Woodlander Sir Gorgeous is a smashing pony stallion with a proven show record in the U.K.. 
National Reserve Champion BD 4 Year Old Pony
National Champion BD 5 Year Old Pony
BD Regional Novice Champion as a rising 5yo
Competing Advanced Medium (scoring 70%+), and ready to go out PSG
Numerous offspring awarded Gold Premiums and Elite Foal winners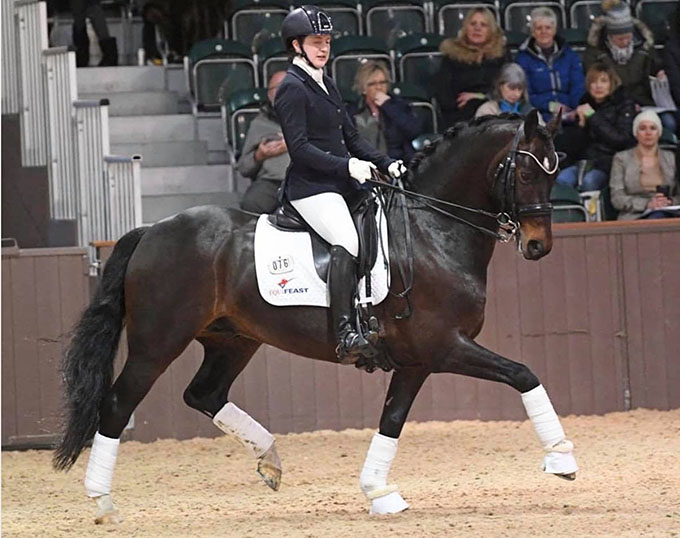 In 2020 he was recognised as a Permanently Graded Stallion and was awarded the 2020 SPSS Dancer Medal in recognition of his proven ability in dressage and the quality of his progeny.
This stunner could be competed as FEI Pony or equally has all the ability to go all the way to Grand Prix!!!
He is extremely easy to handle and deal with, even with stallion collections (collects in a headcollar). He has excellent fertility and breeding does not affect his ridden work or competing
He has been kept as a totally normal pony, and is turned out in a field overnight
The right home is most important and the price is negotiable if the right home is found.
Located at Bromson Stud in the UK
Video on request - more information, photos and videos on Bromson Stud Facebook and Instagram pages