KWPN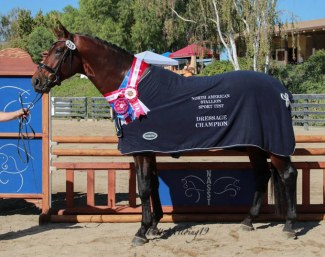 The Dutch warmblood bred Koning DC became the high scoring dressage stallion of the 2019 North American Stallion Sport Test.
The NA Stallion Sport Test follows a 3-day format. The 2019 East Coast test was held at Hilltop Farm in Colora, MD, on 29 October - 1 November 2019. The West Coast test was at Pollyrich Farms in Solvang, CA, on 2 - 4 November 2019. 
The official for the 2019 NASST included Gerd Sickinger, Matthias Granzow, Josef Freese, Sebastian Rohde, and Ludwig Christmann. The test riders were Marion Ostmeyer and Jessica Wisdom.
Eight dressage bred stallions and eight show jumpers were initially entered, but seven dressage stallions competed in the East and West coast testing.  Four passed with a minimum score of 7.5 or higher, three failed the test. 
The overall high scoring dressage stallion was Koning DG, a 4-year old Dutch warmblood by Bordeaux out of Darcy CL (by Jazz x Junior). He is bred and owned by DG Bar Ranch in California. He scored a total of 8.95 points after earning 8.5 for walk and trot, 9 for canter, 9.5 for rideability and 9 for general impression. 
The second highest scoring stallion was Nancy Holowesko's 4-year old Oldenburg stallion Fellini CF (by Finest out of). The black earned 8.30 in total with 8.5 for walk, 8 for trot and canter and 8.5 for rideability and general impression.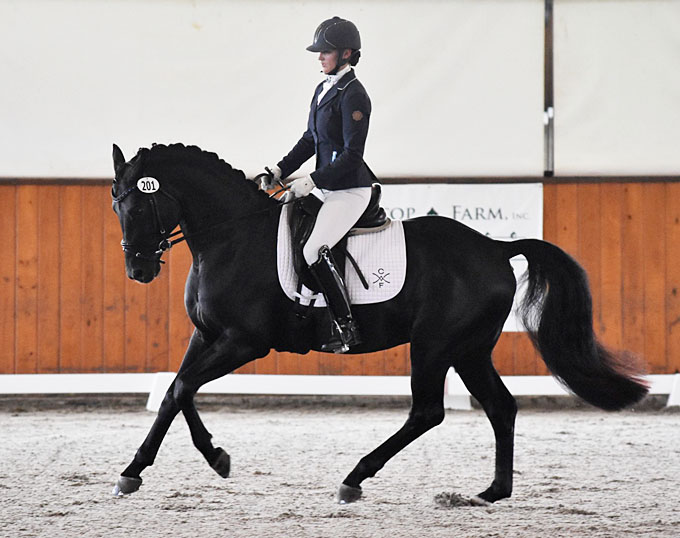 The 4-year old Hanoverian stallion Dionysus MF (by Doctor Wendell MF x Rotspon) scored a total of 7.85 points. Bred and owned by Maryanna Haymon, the dark bay earned 9 for walk, 7 for trot, 7.5 for canter, 8 for rideability and 7.5 for general impression. 
Lisa Smith's 5-year old Hanoverian stallion Frisantos (by Franziskus x Espri) got the fourth best score of 7.70 in total. He earned 7 for walk, 7.5 for trot, and 8 for canter, rideability and general impression. 
The stallions that did not make the cut were Davos CF (by Dante Weltino x Rubinstein) with 7.25, Fernandel of Hillock (by Franziskus x Donnerhall) with 7.20, and Wild Escort (by Wild Dance x Escudo II) with 6.65 points. 
Complete results here.
Photos © Patty Wilding / NA Sport Test
Related Links
Sole Mio Wins 2018 North American Stallion Sport Test
Fifteen Stallions Entered for 2018 North American Stallion Sport Test
Harvest Wins Inaugural 2017 North American Stallion Sport Test
New North American Stallion Testing Established for 2017
Sonntagskind Wins 2009 U.S. 30-Day Stallion Performance Test