Job Offer
Team Oatley, headed by Australian Olympic Kristy Oatley and her daughter, 2021 European Pony Champion Rose Oatley, is urgently looking to expand their team with a full-time groom and rider. 
The Oatleys are based at their private stable in Lutjensee, east of Hamburg, Germany. 
Grooming duties include the daily care-taking of the horses, as well as grooming, tacking, braiding, lunging, and turning the horses in and out of the field. The groom will get the opportunity to join Kristy and Rose to the shows in Germany and international competitions across Europe. No mucking out.
The riding position is available to a rider with an LK3. This means that the candidate needs to have experience up to S-level. S/he will get the opportunity to train talented young horses as well as upper level trained FEI horses.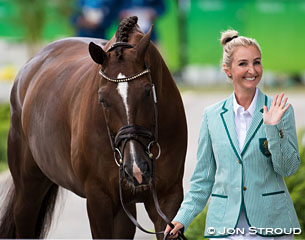 The positions are offered to candidates with a minimum age of 18, a BE driver's licence, and experience in the care taking and training of high quality sport horses.  A work week is 6 days. You can bring own horse. 
This is a great opportunity to work in a small yet highly professional stable with a familiar atmosphere. 
Please send your resume and video of you riding to:
     * Kristy Oatley
     * Email: kristyoatley@googlemail.com