Oldenburg Breeding News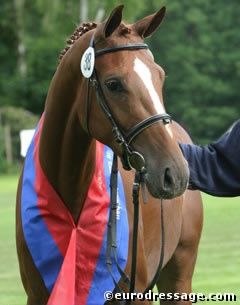 This beauty is the 2004 Oldenburg Mare Champion in Rastede. Love Story V is by Donnerhall out of Love Story II (Akzent II x Freiherr). Love Story V's dam was the 1991 Oldenburg Mare Champion in Rastede.
Beauty and gaits are in the genes.
Love Story V is bred by Joseph Werncke from Cloppenburg. Werncke has now bred three "Rastede Siegerstute," which is unprecedented in the Rastede Mare Show history. Wernke also bred stallions Feinbrand and Welt As.
Surrounded by twenty photographers and a large crowd of spectators, Love Story V showed off her champion's ribbon with her ears constantly pricked forwards.
Martin Determann is an experienced handler for the Oldenburg Verband, als known as "Marathon Martin." Though he is a full time managar of Ludwig Kathmann's stallion station, he regularly puts on his gym shoes to handle stallions and mares for Oldenburg breeders and owners.
Last year he handled the Blue Hors owned mare Fabina (Donnerhall x Pik Bube I). Fabina is the full sister of Don Schufro and was the 2003 Rastede Mare Champion.
This year, Determann's magical hands handled Love Story V and again he strutted a beautiful mare to the Champion's title.
Love Story V is checking out 2004 Reserve Mare Champion in Rastede, the Sandro Hit x Weltmeyer x Roncalli xx mare "Wertvolle".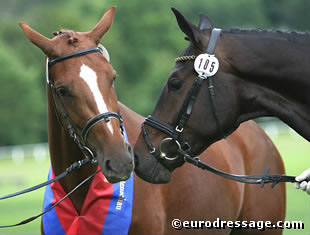 Wertvolle is bred by Richard and Werner Sintke from Sögel and owned by Klaus Dirks from Oldenburg. Wertvolle put in a very good mare performance test scoring 8.12 overall.
The 2004 Reserve Mare Champion in Rastede was Wertvolle, a dark bay/black mare by Sandro Hit out of Weltfee (Weltmeyer x Roncalli xx).
Wertvolle put in a very good mare performance test scoring 8.12 overall. She scored 8.5 on her gaits in freedom, 8.67 under saddle and 7.00 for free jumping. Wertvolle is owned by Klaus Dirks.
No horse in Rastede this year caused more stir than the chestnut Gran Lacarina. Loved by some, hated by others, Gran Lacarina was quite the spectacle. This show jumping bred mare placed third in the Brilliant ring. Taking her performance test into consideration (7.83 for free gaits, 7.50 under saddle, 10 !! for show jumping), her ranking was not too much of a surprise despite the fact that she isn't the classical beauty. Gran Lacarina is bred and owned by Claus Cornelius from Schwanewede.
Drop dead gorgeous was the fourth placing Donna Cally. This black beauty is by De Niro out of State Premium Mare Dorothea (Liberty Son x Figaro x Kant/T). Donna Cally is bred by Erwin Bohmann and owned by Gard Fass from Schortens, Germany. Her beauty equalled her good gaits and in the first round she was already destined to be a Brilliant ring mare.
Placing fifth in the Brilliantring was the liver chestnut mare Fulana. This super mover with powerful hindquarters and great flexion of the hocks scored in her mare test 8.0 on free gaits and 8.17 under saddle. Owned and bred by Josef Niemann from Emstek, Fulana is by Royal Diamond out of State Premium mare Fulina (Don Gregory x Quo Vadis) .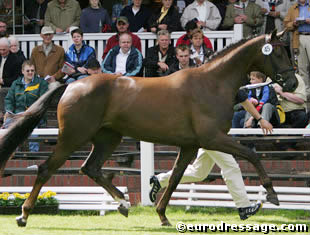 Finishing in sixth place in the brilliantring was Josef-Ludwig Brinkhus' Tamariske. This long lined elegant mover by Dormello out of Tamara (Rubinstein x Luciano) descends from a line of three Elite Mares. Dam, granddam and great granddam are all State Premium/Elite mares. Tamariske scored 8.00 on free gaits, 7.17 under saddle and 6.50 for free jumping in her performance test. 
Handled by Clemens von Merveldt and bred and owned by Josef Wernke, Liberty III was one out of four mares at Rastede that were bred by Wernke. Love Story V won the show, Liberty III finished seventh. Liberty III is by Sandro Hit out of SPS Liberty (Akzent II x Freiherr) and is in dam line closely related to Love Story V.  Clemens von Merveldt put in much time and effort in this year's Rastede Mare show. In preparation of the event, von Merveldt had five mares in training for the show, including Love Story V, Gran Lacarina, Tamariske, Liberty III and then his owned bred Rien ne va Plus (plus Lucky Lady, who did not make it to the brilliantring but became a state premium mare).
The chestnut Rien ne va Plus is out of one of Merveldt's top brood mares, Elite mare Rienna (Glorieux x Pascha x Futuro). Rien ne va Plus is sired by Dormello and finished 8th overall.
The 2004 Rastede mare show featured 110 mares which were divided in groups of 12. They enter the ring individually to be judged on conformation and trot. Then after 12 mares have been inspected, the entire group of 12 enters the ring and are judged on their walk. The panel of judges then announces which mares have made it to the brilliantring.
The first mare of the day to make it to the "Finals" was Atika, an Argentinus x Exorbitant xx x Ahorn Z offspring bred and owned by Christiana Schmidt.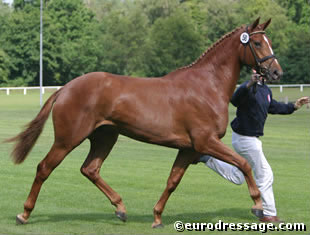 Another Landor S mare making it to the Brilliant ringn besides Gran Lacarina, was Lady Heida II. This chestnut is bred by Gerd Sosath from Lemwerder, who also owns sire Landor S, and is out of a Contender x Furioso II damline. Lady Heida II scored 7.67 on free gaits, 7.50 under saddle and also a top 10 mark for free jumping. Her overall performance test score was 8.35.
While the 2003 Rastede Mare Show was highlighted by the many Donnerhall and De Niro offsprings, the 2004 edition was a Sandro Hit extravaganza. 18 mares out of 110 were sired by Sandro Hit. Reserve champion Wertvolle was the best placing Sandro Hit offspring. Samt und Seide finished 11th in the Brilliant ring. This black mare is out of Dein Liebling (Donnerhall x Pik Bube I) and owned by Heinrich Ramsbrock.
What a pretty picture. 12th placed Waldessa showed a very nicely engaged trot here. Waldessa is by Sunny Boy out of Walzermelodie (Sion x Aktuell) and bred and owned by the Schmacker family from Oldenburg. Waldessa was one of four Sunny Boy's at Rastede. In general, the Sunny Boys were very disappointing, but Waldesse is the exception to the rule.
In 13th position in the brilliant ring was Dornroeschen, a dark bay mare by Diamond Hit out of Wunita (Sandro Song x Ladalco). Dornroeschen was bred by Christiane Olbrich and is owned by Johannes Westendarp from Wallenhorst. The mare has a very electric trot and a large walk, but was a bit tense during the walk presentation. Coming to the Oldenburg mare championships in Rastede on your first big show (away from barn safety) is much to handle for three-year olds, who are green as grass. 
The bold liver chestnut mare Rivana ranked 14th. Bred and owned by Tanja Schlattmann from Neuenkirchen, Rivana is by Rohdiamant out of Verband Premium Mare Anschari (Donnerhall x Galapagos). Rivana did a decent mare performance scoring 7.83 for gaits in freedom, 7.83 under saddle and a moderate 6.50 for jumping.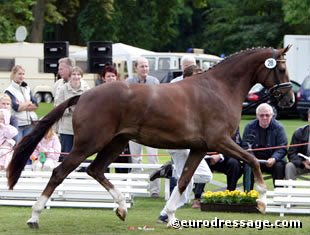 Extraterrestrially beautiful, that is the way Giselle looks. The liver chestnut Don Gregory x Cordeur x Sion offspring is bred by Alfons Koopmann and purchased at the Vechta Auction by American Nancy Gooding from Plum Creek Hollow farm in Colorado, USA. Giselle scored 7.57 overall on her mare performance test and left a very good impression at the Rastede mare show this year. 
Anton and Josef Gramann, who run a training and breeding station very close to the Oldenburg Auction centre in Vechta, had one mare in the Brilliant ring this year: Fleur. She is by Sandro Hit out of Fleur du Jour (Figaro x Titus x Furioso II) and scored a very good 8.38 average mark on her performance test (with no scores below 8.00).
Aurelia was the only thoroughbred sired mare this year in Rastede. Bred by Britta Budeus-Wiegert, Aurelia is by Sevillano xx out of Akkarina (Rubinstein I x Welt As). Aurelia scored 7.67 on gaits in freedom, 7.17 under saddle and 7.50 on free jumping. Overall score was 7.32 in her mare performance test. Aurelia will be offered for sale at the next Elite auction in Vechta.
Another talk-about-engagement-photo. It comes as no surprise if you know that Rubi Waidona's sire is Rubin Royal. This bay mare is born out of Sun (Sion x Waidmannsheil x Herbststurm/T) and is bred by Anke Wichmann from Berne. Currently owned by Dr. Doris Neuhof, Rubi Waidona scored 7.96 overall on her mare test. 
The 2004 Rastede Mare show had to deal with devellish weather. Moments of sunshine made you sweat in your jumpers, and out of the blue rain showers spoiled the mare party in the Schlosspark of Rastede, and umbrella's colored the site.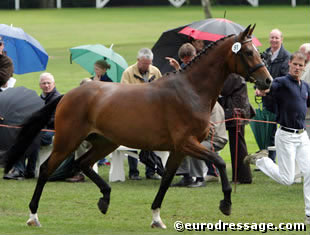 Fourquet was one of several mares who had to show off her trotwork in the rain. Finished 19th in the Brilliant ring, Fourquet is by Sandro Hit x Landadel x Furioso II. 
Riwera, the bay mare who finished 20th in the Brilliant Ring, was a well moving mare by Welt Hit II out of Riconess (Noble Roi xx x Figaro) bred and owned by Hildegard Martens from Oberlethe. Riwera scored 7.64 overall on her mare performance test. She was one out of two Welt Hit II descedents in Rastede. 
21st place mare was the black Crystel, a breeding product of Maik Kanitzky and owned by Andreas Wempe and Felix Tiemann from Cappeln. Crystel is by Dream of Diamond out of SPS Chiara (Rubinstein x Corlando). The black mare scored 8.17 on gaits, 8.00 under saddle and 7.00 for show jumping on her mare performance test.
In 22nd position was Maradita, a chestnut who -- picturewise -- looks a lot like the winner Love Story V. Maradita is also by Donnerhall but out of Elite mare Marella (Classiker x Weltmeister). Maradita is bred and owned by Georg Sieverding from Emstek. In 1987, Sieverding presented the Rastede Mare Champion La Plata (Welt As x Luciano).
Not everyone agreed with Ramina finishing "last" in the Brilliant ring, but of course she also ranked 23rd in a starters' field of 110 mares. Ramina is by the recently deceased foundation sire Raphael out of Happiness B (Welt Hit II x Rubinstein x Tin Rocco). This mare has a very nice brood mare model and is a more than decent mover. On her performance test she score 8.17 for gaits, 7.67 under saddle and 9.00 for show jumping.
Related Links 
Love Story V, Champion of the 2004 Oldenburg Elite Mare Show in Rastede
Results of the 2004 Oldenburg Elite Mare Show