KWPN Breeding News
KWPN keur and preferent stallion Ferro has just passed away this morning. The black licensed stallion suffered from a severe colic attack and could not be rescued. Owners Jan Lamers and Adriaan van der Goor are both in shock because of the sudden death of their beloved stallion.
They are currently at the Equine Clinic in Utrecht, The Netherlands, further investigating Ferro's passing.
Stallion owner Jan van Manen found a colicky Ferro last night at 10 PM. He put the horse in the walker and immediately called veterinarian Jan Nas. After being injected, Ferro was immediaitey transported to the vet clinic in Kesteren. At 2 AM this morning, Ferro's stomach collapsed and he died instantly.
"This is such an enormous blow for us," Adriaan van der Goor told the KWPN office. "Susanne de Klein rode him yesterday and he was super, just like at the KWPN stallion licensing. It seems to be fate that Ferro had to die so soon after Den Bosch."
Only two weeks ago Ferro rode a farewell ceremony with his licensed son Lorenzo and four offspring at the 2005 KWPN Stallion Licensing. He was praised there for still looking so fresh and energetic at age 18. Many wondered why Ferro was not a member of the 2004 Dutch Olympic Team as he showed such brilliant piaffe - passage in the ring.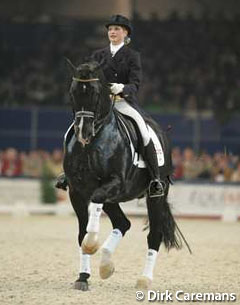 Coby van Baalen, the rider who made Ferro a huge international star, was shocked by the sudden death of Ferro. "I got chills when I heard Ferro passed away," Van Baalen told De Hoefslag. "He is an exceptional horse and he will stay that forever." Coby and Ferro won team silver at the 1998 World Equestrian Games, 1999 European Championships and 2000 Olympic Games. Their career highlight was in 2000 when they placed second in the World Cup Finals in 's Hertogenbosch, having scored over 80% for their kur to music.
Ferro is one of the KWPN verband's foundation stallions, having sired more than ten licensed sons, of which Kennedy, Rousseau, Rhodium, and Negro are the most famous.
Images copyrighted: Dirk Caremans - No Reproduction Allowed
Related Links
Ferro-Lorenzo Pas de Deux at the 2005 KWPN Stallion Licensing
KWPN Foundation Sires and Their Get
Olympic Ferro and Cabochon proclaimed as Keur Stallions