KWPN Breeding News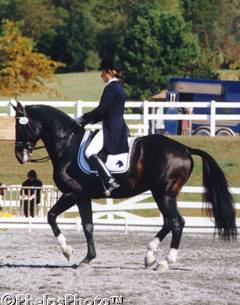 The KWPN stallion committee recently met to evaluate older stallions on the basis of their three- (and four), seven- and eleven year old offspring. Gran Corrado, who was on the watch list, has been reinstated to approved status.
Hemmingway, Haarlem, Iglesias, Harcos and Prince Paradiso R have lost their approved status. Contango, Indoctro and Libero H have been proclaimed Preferent.
Contango won the stallion jumping competition and was ridden by Els Jansen at FEI level prior to his departure to the USA. With his owner and rider Mary Alice Malone Contango made his debut at Grand Prix level. His offspring Madorijke, Maverick, Maestro and New Tango have reached the same level in sport and are successful internationally. Contango offspring Broere Maroon, Newton and Nouvelle are competing at the highest levels in the jumping ring. His breeding values for both dressage (168) and jumping (123) are far above average. Through his approved son Citango and grandson Tango the breeders can profit from Contango's qualities that have earned him the preferent predicate as a sire.
Of the more than 50 offspring of the now preferent Indoctro that are jumping at the highest level in sport, Nassau and Nike shone at the European Championships. Because of his successful offspring we also find Indoctro at the top of the rankings in Germany and the USA. His sons Montreal, Nassau, No Limit, Orame, Sheraton, Veneur, Viceroy T and grandson Thunderbolt all serve the KWPN breeding program. More than half of his daughters accepted into the studbook have a predicate behind their name. With this Indoctro has developed as one of the sires that has put his stamp on modern jumper breeding.
Together with his son Numero Uno, Libero H has formed his own sire line in Dutch jumper breeding. But more than anything the world cup winner of 1994 knows how to put his stamp on international jumpers. His daughters Liberty and Maike and son No Mercy shone at the Olympic Games and during the European Championships. Besides the aforementioned there are yet more than 40 offspring performing at the highest level in the jumping sport. That is more than a quarter of all his offspring that are in competition. More than enough reason to grant Libero H the preferent predicate.
Source: KWPN press release
Image copyrighted: Mary Phelps/Phelpsphotos.com
Related Links
Houston Proclaimed KWPN Keur Stallion
Mary Alice Malone and Contango First Place USDF Grand Prix Horse - Adult Amateur