2006 World Equestrian Games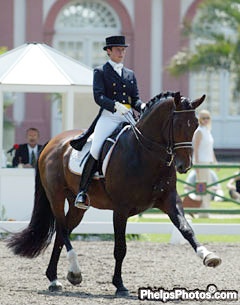 The Swedish Equestrian Federation has announced the team that will represent Sweden at the 2006 World Equestrian Games in Aachen, Germany, starting August 20, 2006. Swedish Chef d'Equipe Elisabet Lundholm selected the following five riders for her team:
Jan Brink - Björsells Briar
Patrik Kittel - Dallmayer Promodo
Louise Nathhorst - Guinness
Tinne Vilhelmson - Solos Carex (pictured)

Reserve: Kristian von Krusenstierna - Wilson
Though Brink and Nathhorst have been steady team riders, two new combinations are on the Swedish WEG team. Tinne Vilhelmson will be riding her second Grand Prix horse Solos Carex due to the untimely passing of Just Mickey. Patrik Kittel is new on the team.
"They are two strong riders [Kittel, Vilhelmson] that are selected for the team, both have show good form in Falsterbo and they are still improving," said Elisabet Lundholm.
Photo copyrighted: Mary Phelps / Phelpsphotos.com
Back to the 2006 WEG index