2007 Equine Elite Auction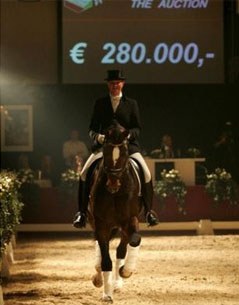 Wittinger became the price highlight of the 3rd Equine Elite Auction in Hooge Mierde, The Netherlands, on October 27, 2007. The Rhodium x Jet Set stallion sold for 280,000 euro to Denmark.
The 2007 Equine Elite Auction was as much an entertainment show as an auction of international calibre horses. Renowned music stars Lee Towers, Lou Bega and Eimear Quinn brought their greatest hits during and after the auction, while the auction was opened by SBS-6 TV starlet Christina Bosolivic.
The entire gold medal winning Dutch dressage team was present at the auction and were involved in the sale or purchase of several auction horses. Horses were sold between 13,000 and 280,000 euro with buyers from Holland, the USA, Belgium, Denmark, England, Finland, Sweden, and Switzerland.
Organizers Craig Rawlins and Diederik Wigmans commented: "we are incredibly proud of this fantastic evening. Of course it is fun that we had a few price highlights but many horses were also sold at affordable prices. This auction has something to offer for every type of buyer."
A lovely photo report of the auction can be seen at www.equineelite.nl