2008 Swedish Dressage Championships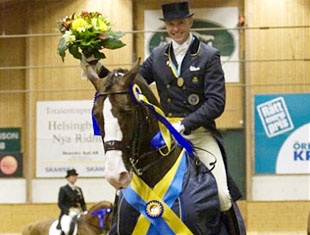 Senior rider Jan Brink and young rider Johanna Dueboje won the 2008 Swedish Dressage Championships for Grand Prix and Young Riders held in Helsingborg, Sweden, October 31 - November 2, 2008.
Brink claimed his seventh and last champion's title aboard Biar (by Magini x Kroket), as this was the last championships in which the leading Swedish dressage rider will be participating with his 17-year old Swedish stallion. Briar is planned to retire from competition at the 2009 World Cup Finals in Las Vegas, U.S.A.
Photo courtesy: Krister Lindh
Brink's reign used to be unchallenged. However, this year, he faced some tough competition from his former partner Minna Telde, who won the Grand Prix aboard Johan Ifverson's Don Charlys (by Don Gregory x Inschallah AA). Telde won the class with 70.083 but had Brink on her heels with a 69.708 % score. In the Kur to Music, Brink was supreme again riding to his "Number One" freestyle. The duo scored 74.600 %, won the kur and the overall championship with an average score of 72.154. The silver medal went to Telde who finished third in the kur on 72.550%. Maria Eriksson and her chestnut Galliano (by Labrador x Collin) claimed the bronze medal after finishing second in the kur with 73.100%. Their average championship score was 70.987%.
"This is our seventh gold medal together and it is especially cool that we were able to win it in Helsingborg, which is my home riding club," Jan Brink said. "This is also Briar's last Swedish Championships, which makes it a bit special. Briar can go another Championship, but I want to end with him at the top, so this will be his last season."
In the young riders division Johanna DueBoje reigned supreme winning all three championship rounds with Brownie, a Swedish warmblood gelding by Bernstein x Ganesco offspring, bred by Ester and Karl-Erik Jönsson. The winners obtained an average score of 68.953%. The silver medal went to Sanna Edsmar on Pay Back TP (by Come Back II x Bernstein) who finished with an 66.891 % average. Emilie Nyreröd and her sympathetic Swedish liver chestnut Milca (by Briar x Brisad) earned the bronze with an 66.825 % average.
Results 2008 Swedish Dressage Championships
Young Riders - Round 1 - Team championship test
1 Johanna DueBoje - Brownie - 69.259
2 Sanna Edsmar - Pay Back TP - 66.222
2 Malin Ljungcrantz - Larino - 66.222
4 Kristina Berthagen - Ellis - 65.778
5 Emilie Nyreröd - Milca - 65.407
6 Frida Olin - Donald - 64.963
7 Anna Espelund - Granit - 64.222
8 Sandra Dahlin - Milai - 64.074
9 Sara Enquist - Goch - 63.852
10 Josefin Rudolfsson - Ilex - 63.556
11 Emelie Ahlin - Glenn Grant - 63.333
12 Anna Tifelt - Filippus - 63.185
13 Stephanie Brodd - Accept - 62.000
14 Alexandra Sterne - Ben Hur - 61.926
15 Katrin Brusewitz - Victory - 61.630
16 Christian Brolin - Contact - 61.481
17 Hedda Carlqvist - Bilbo - 61.259
18 Christian Brolin - Grand Valley - 59.481
19 Ida Eriksson - Dayton LB - 58.815
Young Riders - Round 2 - Prix St Georges
1 Johanna DueBoje - Brownie - 68.750
2 Emilie Nyreröd - Milca - 67.167
3 Sanna Edsmar - Pay Back TP - 66.750
4 Frida Olin - Donald - 64.083
5 Anna Espelund - Granit - 64.000
6 Malin Ljungcrantz - Larino - 62.917
7 Emelie Ahlin - Glenn Grant - 62.250
8 Sara Enquist - Goch - 62.167
9 Kristina Berthagen - Ellis - 61.833
10 Hedda Carlqvist - Bilbo - 61.583
11 Anna Tifelt - Filippus - 61.083
11 Alexandra Sterner - Ben Hur - 61.083
13 Josefin Rudolfsson - Ilex - 61.000
14 Katrin Brusewitz - Victory - 60.333
15 Ida Eriksson - Dayton LB - 59.833
16 Christian Brolin - Grand Valley - 59.667
17 Christian Brolin - Contact - 59.000
18 Sandra Dahlin - Milai - 57.917
19 Stephanie Brodd - Accept - 57.750
Young Riders - Round 3 - Kur to Music
1 Johanna DueBoje - Brownie - 68.850
2 Emilie Nyreröd - Milca - 67.900
3 Sanna Edsmar - Pay Back TP - 67.700
4 Malin Ljungcrantz - Larino - 66.500
5 Anna Espelund - Granit - 66.350
6 Frida Olin - Donald - 66.100
7 Emelie Ahlin- Glenn Grant - 66.050
7 Sara Enquist - Goch - 66.050
9 Kristina Berthagen - Ellis - 64.850
10 Josefin Rudolfsson - Ilex - 64.000
11 Anna Tifelt - Filippus - 63.900
12 Alexandra Sterner - Ben Hur - 63.250
2008 Swedish Young Riders Championships
1 Johanna DueBoje - Brownie - 68.953
2 Sanna Edsmar - Pay Back TP - 66.891
3 Emilie Nyreröd - Milca - 66.825
4 Malin Ljungcrantz - Larino - 65.213
5 Frida Olin - Donald - 65.049
6 Anna Espelund - Granit- 64.857
7 Kristina Berthagen - Ellis - 64.154
8 Sara Enquist - Goch - 64.023
9 Emelie Ahlin - Glenn Grant - 63.878
10 Josefin Rudolfsson - Ilex - 62.852
11 Anna Tifelt - Filippus - 62.723
12 Alexandra Sterne - Ben Hur - 62.086
Grand Prix Riders - Round 1 - Grand Prix
1 Minna Telde - Don Charlys - 70.083
2 Jan Brink - Briar 899 - 69.708
3 Maria Eriksson - Galliano - 68.875
4 Maria Von Essen - Vivo - 67.083
5 Louise Nathhorst - Leonardo - 66.208
6 Charlotte Haid-Bondergaard - Lonevan - 66.000
7 Anette Christensson - Normandie JB - 65.083
8 Maria Borg - Basic - 64.500
9 Nina Bengtsson - Ajax Två - 63.417
10 Charlotte Esping - Generalen - 63.042
11 Rose Mathisen - Bourbon - 62.208
12 Kristian Von Krusenstierna - Charleston - 62.125
13 Emma Karlsson - Donna Louisa - 61.750
14 Anne Grethe Törnblad - Ladroneur - 61.250
15 Ulla Håkanson - Charming Boy - 60.833
16 Pia Fälth - Efendi - 60.208
17 Magdalena Skatt - Zorino - 60.083
18 Kristian Von Krusenstierna - April 4 - 59.875
Grand Prix Riders - Round 2 - Kur to Music
1 Jan Brink - Briar 899 - 74.600
2 Maria Eriksson - Galliano - 73.100
3 Minna Telde - Don Charlys - 72.550
4 Maria Von Essen - Vivo - 71.350
5 Anette Christensson - Normandie JB - 67.700
6 Louise Nathhorst - Leonardo - 67.300
7 Rose Mathisen - Bourbon - 65.700
8 Nina Bengtsson - Ajax Två - 65.600
9 Charlotte Haid-Bondergaard - Loneva - 65.550
10 Pia Fälth - Efendi - 65.50
11 Kristian Von Krusenstierna - Charleston - 65.200
12 Charlotte Esping - Generalen - 64.750
13 Maria Borg - Basic - 64.150
14 Ulla Håkanson - Charming Boy - 63.950
15 Emma Karlsson - Donna Louisa - 63.850
2008 Swedish Grand Prix Championship
1 Jan Brink - Briar 899 - 72.154
2 Minna Telde - Don Charlys - 71.316
3 Maria Eriksson - Galliano - 70.987
4 Maria Von Essen - Vivo - 69.216
5 Louise Nathhorst - Leonardo - 66.754
6 Anette Christensson - Normandie JB - 66.392
7 Charlotte Haid-Bondergaard - Lonevan - 65.775
8 Nina Bengtsson - Ajax Två - 64.508
9 Maria Borg - Basic - 64.325
10 Rose Mathisen - Bourbon - 63.954
11 Charlotte Esping - Generalen - 63.896
12 Kristian Von Krusenstierna - Charleston - 63.663
13 Pia Fälth - Efendi - 62.854
14 Emma Karlsson - Donna Louisa - 62.800
15 Ulla Håkanson - Charming Boy - 62.392
Related Links
My Princess, Hohenstaufen II, Wladimir OA, and Yantuge win 2008 Swedish Young Horse Championships
Scores 2007 Swedish Dressage Championships
Jan Brink, Swedish Dressage Champion for the Fifth Time
2004 Swedish Title, Icing on the Cake for Vilhelmson