2008 CDI Vienna - 7 - 9 November 2008
Grand Prix Kur to Music
1. Cointreau - Gmoser, Peter - 75.000
2. Tannehof's Solero - Plönzke, Anja - 74.000
3. Randon - Rapcewicz, Michal - 73.250
4. Mastermind - Sayn-Wittgenstein, Nathalie - 71.000
5. Ellis - Mayr, Hannes - 70.000
6. Lord Sinclair - Henschke, Miriam - 69.500
7. Palazzo - Bachinger, Eva-Maria - 69.000
7. Laredo - Markusson, Pernilla - 69.000
9. Willibald's Don Giovanni - Willibald, Isabella - 68.500
Grand Prix Kur to Music (Saturday Finals)
1. Randon - Rapcewicz, Michal - 75.500
2. Lord Sinclair - Henschke, Miriam - 75.000
3. Ellis - Mayr, Hannes - 72.500
4. Mastermind - Sayn-Wittgenstein, Nathalie - 70.000
5. Willibald's Don Giovanni - Willibald, Isabella - 69.500 Punkte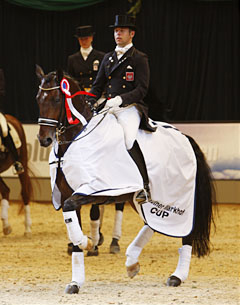 Polish Michal Rapcewicz won the Grand Prix Kur to Music at the Fest der Pferde international dressage competition in Vienna, Austria. Trained by the Belgian Marc Peter Spahn, Rapcewicz and his Polish bred Randon (by Czuwaj x Famino) scored 75.50% and received the Manfred Mautner Markhof Trophy.
The second place was for Miriam Henschke was back in the saddle of the breeding stallion Lord Sinclair (by Lanciano). The bay stallion, who produced many dressage champions such as Sir Sinclair and Lord Loxley, was purchased at the 1997 PSI auction for the record price of 1.4 million euro by the Swiss John Muller. After Müller's untimely death, Lord Sinclair's owner "on paper" became his breeder Georg Niedermair of Gut Spielberg.
Austrian local hero Hannes Mayr and his own bred Ellis finished third.
Grand Prix Kur to Music (Sunday Finals)
1. Tannenhof's Solero - Plönzke, Anja - 79.500
2. Salieri OLD - Max-Theurer, Victoria - 76.500
3. Cointreau - Gmoser, Peter - 76.000
4. Palazzo - Bachinger, Eva-Maria - 72.500
Anja Plönzke and the Trakehner breeding stallion Tannenhof's Solero won the Sunday Kur to Music finals. She scored a strong 79.50% with her bay stallion (by Hyllos x Polargeist) which is bred by Roswitha Schwecht of Rittergut Burg Sievernich and owned by the Plönzke family. Local favourite Victoria Max-Theurer and Salieri OLD (by Sandro Hit x Dakota II) finished second riding their new Mary Poppins freestyle, composed by Cees Slings.