What's Happening in the Dressage World?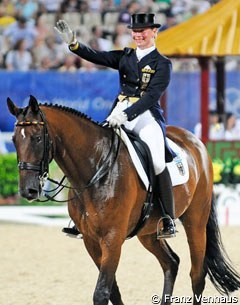 In a radio interview with Chris Stafford, German Olympic gold medallist Isabell Werth has revealed that she's expecting a baby boy. The baby is due on 1st November 2009. Werth is very joyous about the coming of her baby and her new role as a trainer in her stable. "I still ride, but just a few rounds. Just for myself. Most of the time I sit in the corner and teach my team. It's a good time, but of course I'm happy to come back on the horse again," she said.
American Chris Stafford did a comprehensive interview with Werth for her ownDressage Radio Show The interview can be listened to on the Dressage Radio Show website or downloaded as a free podcast on iTunes and Zune. The episode featuring Werth (episode 21) starts out with U.S. team rider Debbie McDonald talking about her barn being snowed in unexpectedly (she is based at River Grove Farm in Idaho, "a famous ski resort"). Debbie's groom Ruben is nominated for the FEI Groom of the Year Award. Isabell Werth reminisces about her first meeting with Gigolo. "He was a partner in my life for 20 years. It was a very close partnership. We started together," she said. She knew the quirky looking liver chestnut was truly special as soon as she got on him. "When I was testing him, as soon as I started to trot I felt at home with him."
At the end of September, Kyra Kyrklund was in Stromsholm, Sweden for a clinic. It sold out with 800 people attending and they had a waiting list of more than 200 people. "My lecture demo was a trip down memory lane," she wrote. "It is always so nice to return to Strömsholm. 37 years ago, I stayed there for 2 years, the first as a student, the second as an "apprentice teacher". The school has grown tremendously the last years, but the "heart" of Strömsholm, the old stables and the old indoor schools, are still the same. At demos, I usually work with horses and riders, I have not seen before. The selection I had at Strömsholm was perfect, open-minded riders that were not too intimidated by the big audience and who were happy to try "new" exercises and horses who were very cooperative. Many of the horse-rider combinations were students at the school and I was positively surprised of the quality of riding. The following day I made a special demo for 65 trainers. Some horses were the same and some were new ones, a very interesting day!"
The licensed stallions Florett As and Silvano have moved stables. Owner Arlette Jasper switched from trainer Dominik Erhart to Swedish Olympic Patrik Kittel. Kittel told Eurodressage that he will make his Grand Prix show debut with the black stallion Florett As (by Florestan) at the national show in Paderborn and then he'll show at the K+K cup show in Münster.
In some sections of the equestrian world the recession has not come to an end, unfortunately. British Dressage announced that the National Trainers Forum, "which was due to be held on the 6 October at the College EC has been cancelled due to lack of ticket sales. All those who have purchased tickets have been contacted and will be reimbursed." 
With the sale of the famous Gestut Vorwerk to Sissy Max-Theurer, many of the Vorwerk stallions are being relocated and sold to different stallion owners. WEG team bronze medal winning 18-year old Oldenburg stallion Relevant (by Rubinstein x Goldlowe) has moved to England. He is now stationed at Silva Olssen-Bedding and Peter Bedding's Constantia Stud in Sidmouth, while the gorgeous black stallionFaustinus (by Furst Heinrich x Starway xx) has already been residing in Sweden for quite some time. Roadster (by Rohdiamant x Furioso II) is also stationed in England. Don Gregory, Dylano, Rohdiamant and Royal Diamond are standing at stud at Markus Gribbe's Dressurpferde Leistungszentrum in Lodbergen, Germany.Laureano, Revan, Rubinero and Sergio Rossi are stabled at dressage rider Kira Wulferding who is training these four stallions.
Anky van Grunsven is getting her own street in her home town Erp in The Netherlands. The town council of Veghel (to which Erp belongs) decided to name one street, Anky van Grunsvenstraat, in a new development in Erp. Don't drive there to find Anky because she lives somewhere else in the town.
Craig Bernstein, long time groom of international Grand Prix rider Arlene 'Tuny' Page, has married his partner Keena Pettijohn at his home in Wellington, Florida, USA, on October 10, 2009. Many dressage personalities from Florida attended the wedding, including Grand Prix riders Tuny Page, Tara Stegen, Mikala Gundersen, and Shannon Dueck. Bernstein retired as a groom due failing personal health. He had to undergo numerous knee surgeries to keep going but finally recovered on took up a new job as sales representative for the Belgian founded international horse feed company Cavalor. The company is sponsoring the Gold Coast dressage series hosted at the Jim Brandon equestrian centre this winter.
The credit crunch has affected many equestrian business. Sweden's State Stud in Flyinge reported that they had 21% less breedings this year. Fortunately, Flyinge did stand the second most used stallion in Sweden of the year: Nintender. This show jumper covered 144 mares.
Former British Grand Prix champion Maria Eilberg confessed in her blog on Horse Hero that she failed to pass for her lorry driver's license. "Oh dear, I failed my HGV on a traffic light! I was just thinking what nice weather it was and then realized it was actually blinding me as I failed to see the traffic light go to amber and suddenly there it was, red and I was in the middle of a junction. A bit of an expensive oops to make!! I have another shot at it next week, but if I don't get it then I will be in serious trouble - as you can imagine my Dad was not very impressed!!" Good luck next time. You can do it!
Belgian FEI Pony rider Alexa Fairchild has sold her team pony Neervelds Blamoer to French-Belgian rider Celine "Zouzou" Atlan.  The combination trains with Virginie Deltour at Domaine Mon Souhait near Brussels, Belgium. Blamoer was 6th at the CDI-P Addington, 2nd at the CDI-P Vierzon and finished 10th at the 2009 European Championships.  At the 2008 European Pony Championships this finished second in the consolation finals with 69,84%. They also came fourth at the 2009 Belgian Pony Championships in September. Alexa Fairchild will continue riding at FEI pony level with her palomino stallion Stukhuster Ricardo Go for Gold and her promising star Don Ramiro (by Dressmann x Dhzenghis Khan).
Former European pony champion Sönke Rothenberger celebrates his birthday today. The German pony rider turned 15.