2011 European Pony Championships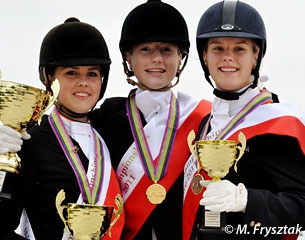 German Grete Linnemann and her picturesque bay German Riding pony mare Cinderella M (by Constantin x Donnerhall) have teamed up for the individual test gold medal at the 2011 European Pony Championships in Jaszkowo, Poland, on Saturday 30 August 2011. Linnemann put herself on the highest step of the podium to receive the gold. Her team mate Lena Charlotte Walterscheidt won silver, while Dutch Dana van Lierop and Day of Diva finished in bronze medal position.
Linnemann had a bit of bumpy road towards the Europeans. In 2009 she had to withdraw Cinderella as her pony went lame at the European Championships in Moorsele, Belgium. This year she had to deal with negative press a month before the show as her rollkur riding style was put under fire by the German St. Georg magazine. At the 2011 European Pony Championships Linnemann was on best behaviour though and there was little hyperflexion to be seen in the warm up ring, so far. After having won team gold and the team championship test in the first round of the European Pony Championships, the Sittensen based Linnemann put herself in the hot seat for the individual gold.
Trained by Janina Siemers, Linnemann put in a very expressive ride with her top pony, which has an extraordinary, elegant movement mechanism. The judging panel, which consisted of Baarup (DEN), Mouw (NED), Loriston-Clarke (GBR), Markowski (POL) and Wust (GER), was quite divided on her performance. Even though she scored top 70% notes and finished with a winning total of 76.921% the German pony rider was ranked from 1st (79.211%) to 5th place  (72.632%).
"Today Grete bravely rode to gold with a lot of risks," said German chef d'equipe Cornelie Endres. "There were only a few tiny technical mistakes."
The silver medal went to German Lena Charlotte Walterscheidt, who also earned individual test silver last year at the 2010 Europeans with Deinhard B. Aboard the Baden Wurttemberger bred Lord Champion (by Le Champion), Walterscheidt scored 75.842%. The judges were more in unison on her scores with very little point variation, though she ranked between 2nd and 4th place.
Endres described Walterscheidt's ride as "super refined, stilistically attractive and very clean."
Dutch Dana van Lierop, who won team gold at last year's European Pony Championships aboard Walterscheidt's Lord Champion, now claimed individual test bronze with the Belgian owned Day of Diva (by Don't Worry). Van Lierop, who has also been competing at Junior Riders' level with DJ Tiesto this year but chose to go to the pony Europeans, scored 75.474% to slot in third for bronze.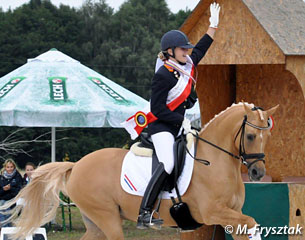 Van Lierop couldn't believe her ears when she heard she won bronze. "There were tears and I hugged Diva," said Van Lierop. "I'm incredibly happy. She went really well in the warm up. The test went well, but I could have ridden the simple changes a bit more beautifully. I was very pleased. Diva is such a great pony."
2010 European individual test gold medal winner Jessica Krieg finished fourth this time aboard her 8-year old palomino stallion Danilo (by Dornik). Despite a few mistakes she scored 75.342 points in total. Her marks, however, ranged between 71.316 (16th !!) and 79.079 (1st).
"Jessica is of course very disappointed with her fourth place, but we'll boost her again for tomorrow's freestyle ride," said team trainer Connie Endres. "When four combinations at the top, who are at the same level, are riding for the medals, then it's the mistakes that will decide the ranking," said Krieg's trainer Stefanie Meyer-Biss.
Text by Astrid Appels - Photos © Malgorzata Frysztak - NO REPRODUCTION ALLOWED
Back to the 2011 European Pony Championships Index