2011 German Youth Riders Championships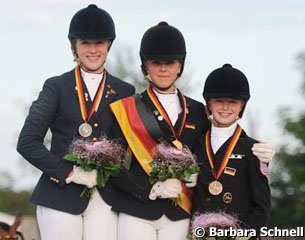 Lena Charlotte Walterscheidt, Pia Katharina Voigtlander and Sanneke Rothenberger pushed for power and earned the national title at the 2011 German Youth Riders Championships held in Freudenberg, Germany, on 19 - 21 August 2011. None of the German team riders lost their form after the European Championships and were able to shine once more on a national level.
Forty-three riders qualified for the pony division but it were Walterscheidt, Krieg and Rothenberger who were in the running for a podium place. Lena Charlotte Walterscheidt and her Baden Wurttemberger bred pony gelding Lord Champion won the team test and kur and totalled 299,67 points to get the gold. Jessica Krieg and her palomino stallion Danilo were first in the individual but second in the team test and kur. She tallied a total of 298,71, not even one point behind the winner. The 11-year old Semmieke Rothenberger and her palomino gelding Domino Dancing are always good for solid, meticulous round and finished in bronze medal position with 286,18 points.
"Both rode very strongly," said judge Kerstin Holthaus about Walterscheidt and Krieg. "Lord Champion impresses with his fine contact, while Danilo stands out with his dynamic, energetic movements." Rothenberger was praised for her "confident and her technically good riding"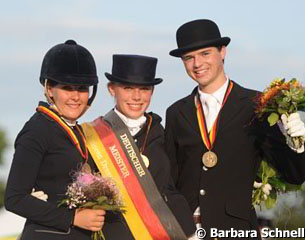 In the junior riders' division double European silver medal winning Pia Katharina Voigtlander rose to the top aboard her bay gelding Laetitian (by Lord Sinclair). She scored a total of 217.63 points but had Vivien Niemann on the Hanoverian Cipollini (by Compliment) on her heels as they won the team championship test on day one. Unfortunately on the second day the bay gelding stuck his tongue out and lost valuable points. Niemann got silver with 215,16 points and they were followed by Johannes Ruhl on Flying Lady (by Florestan) with 208,74 points.
Voigtlander had come to Freudenberg "to do as good as I can," she said. "After the Europeans in Denmark we didn't do much so I didn't have any particular expectations. I didn't count on the fact that he would go so well."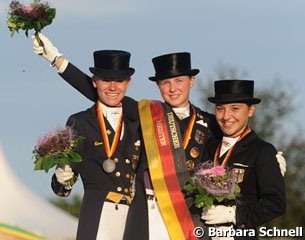 Sanneke Rothenberger and her black Oldenburg gelding Deveraux OLD (by De Niro x Rohdiamant) were untouchable in the young riders division.They got gold with a point total of 232,22, well head of silver medallist Annabel Frenzen on the Holsteiner Cristobal (221.26). The bronze went to Charlott Maria Schurmann on her liver chestnut mare Donna Jackson (by Dr Jackson) with 218,75 points.
German youth riders team trainer Hans Heinrich Meyer zu Strohen praised Rothenberger's management of her horse. "Sanneke showed a very consistent form which is thanks to its good management done by the family." The German young riders that competed at the Europeans in Denmark all did well. "Annabel is also successful with Cristobal in the Piaff Forderpreis (Under 25 Grand Prix), which had a positive effect on their development. She was able to present him more actively," said Meyer zu Strohen. "I'm happy to experience the development of the young riders and often this period goes by too fast."
Photos © Barbara Schnell - MORE IMAGES in the Photo GALLERY below
Results
2011 German Pony Championships
1. Lord Champion Walterscheidt, Lena Charlotte - 299,67
2. Danilo - Krieg, Jessica - 298,71
3. Domino Dancing - Rothenberger, Semmieke - 286,18
4. Carrie WE - Schmitz-Heinen, Ruben - 284,70
5. Der feine Lord - Thu?ning, Joline - 281,52
6. Voyager - Kampmann, Sophie - 273,66
7. Giglberrg Spotlight - Oppowa, Vanessa Theresa - 272,54
8. Wengelo's Ricardo - Boehmer, Pia - 272,19
9. Janine WE - Richter, Leonie - 272,04
10. Dorn - Ko?nig, Celine - 271,09
11. Dornik's Donovan - Abbelen, Anna-Christina - 267,25
12. Desmond - Theile, Anna-Lisa - 266,46
2011 German Junior Riders Championships
1. Laetitian R. - Voigtla?nder, Pia-Katharina - 217,63
2. Cipolini - Niemann, Vivien - 215,16
3. Flying Lady - Ru?hl, Johannes - 208,74
4. Der Daimler - Schmitz-Heinen, Jonas - 208,74
5. Flick-Flack - Piotrowski, Juliette - 205,72
6. Emotion - Schulze Sutthof, Lars - 205,25
7. Succession - Platen, Maxi Kira von - 202,17
8. Fascinate - Nuscheler, Juliane - 202,03
9. Passero - Hassenbu?rger, Carlotta - 199,45
10. Welcome Forever - Budde, Michele - 199,42
11. Indira - Beer, Kristin - 199,03
12. Well Done - Schmadl, Melinda - 198,06
2011 German Young Riders Championships
1. Deveraux OLD - Rothenberger, Sanneke - 232,22
2. Cristobal - Frenzen, Annabel - 221,26
3. Donna Jackson - Schu?rmann, Charlott-Maria - 218,75
4. Richard Lo?wenherz - Hahn, Fiederike - 214,67
5. Kasimir TSF - Kracht, Anna-Lena - 208,15
6. River Dance - Husenbeth, Nadine - 207,43
7. Lord - Keller, Kathleen - 205,93
8. Carlo Carlucci - Peper, Svenja - 205,81
9. Aix Les Bains - Finke, Sabrina - 203,46
10. Etienne La Petite - Nowag, Carolin  - 203,19
11. Schloßherr - Erlbeck, Sarah - 200,53
Related Links
Photo Report: All the Action from the 2010 German Youth Riders Championships
Scores: 2009 German Youth Riders Championships
Photo Report: 2008 German Youth Riders Championships in Hannover
Photo Report: 2007 German Youth Riders Championships in Steinfeld
Photo Report: 2006 German Youth Riders Championships