What's Happening in the Dressage World?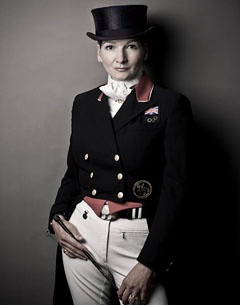 British celebrities are auctioning their hats for charity for Woolly Hat Day 2011 which supports the homeless. Last year British people put their hats on for homeless people and raised money in all sorts of exciting ways.
St. Mungo's is organizing the online auction. You can bid on hats of celebrities such as Helena Bonham-Carter, Annie Lennox, Elvis Costello, Eric Clapton. British dressage rider Nicola McGivern is one of the British equestrian celebrities offering her hat for auction.
The Hanoverian licensed breeding stallion Worldly (by Wolkenstein II) has been sold to Renai Hart of Riverpark Farm in New Zealand. Worldly was advertised in Eurodressage's Equimarket and sold within two weeks!!! Want to advertise your horse in our Equimarket?!
Australian Grand Prix rider Mary Hanna has been experiencing some passport troubles commuting between her home and the United Kingdom where she is training with Kyra Kyrklund. Check out Mary's struggle with the airport officials on Cyberhorse.
The KWPN licensed stallion Westenwind (by Flemmingh x Contango) will be ridden by Vai Bruntink at Stable Laarakkers in the future. Former rider Emmelie Scholtens and owner Adri Zekveld agreed to terminate their contract. Under Scholtens, the 8-year old stallion competed at the World Young Horse Championships in 2008 and 2009 and became 2011 Dutch Fourth Level champion in June.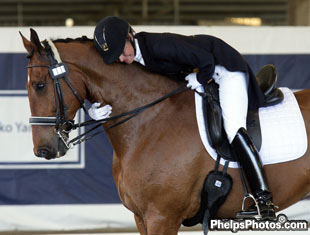 Shannon Peters' Grand Prix horse Odyssey has been officially retired from competition. The 15-year old Dutch warmblood gelding (by Ferro out of Gerina) is owned by Akiko Yamazaki and was competed by Peters at national Grand Prix level. Shannon has only been working with Odyssey since 2009. This year the pair won the Grand Prix Special at the 2011 CDI Del Mar with 66.250%. The combination qualified for the 2011 U.S. Dressage Championships but were not on form there. The bay gelding will now enjoy his retirement near Sacramento, CA, where he shares a 10 acre pasture with some buddies.
Ridehesten's editor-in-chief Britt Carlsen is celebrating her 50th birthday with a special reception at her employer Publishing company Wiegaarden's main office in Denmark. Carlsen has been working for Wiegaarden for 15 years. The reception with food and drinks takes place on 11 November in the afternoon
Anky van Grunsven took her life partner Sjef Janssen and two kids to New York City to visit clients and do some vacationing. While Janssen and the kids were photographed taking a buggy ride through Central Park, Van Grunsven tweeted the following after a shopping spree in NYC: "Full bags of chlothes for Sjef and kids and just a Fendi bag for me."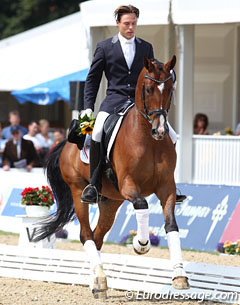 Dutch junior rider Anne Meulendijks has acquired a 50% share in the ownership of Avanti, the 6-year old KWPN gelding which Laurens van Lieren competed to a fifth place at the 2011 World Young Horse Championships in Verden. Avanti (by United x Farrington) will move to Tineke Bartels' Academy where Meulendijks is working as a rider.
Swedish bronze medal winning Patrik Kittel forgot to pack his show boots before he headed to the CDI-W Lyon to compete Silvano. Fortunately Edward Gal was kind to offer his boots to him. "I will be starting in Edward Gal's boots that he had with Totilas:))) well if that doesn't bring luck," Kittel quipped. Kittel finished 8th in the Grand Prix with 68.340%.
Dutch equestrian newspaper Het Sportpaard has been acquired by the Eisma Media Group, which also owns the equestrian newspaper De Paardenkrant. This means that the two newspapers will merge into one. Sportpaard owner and editor-in-chief Dirk Willem Rosie will become the chief editor at De Paardenkrant while former editor Carolien Tesselhof will get a new function within the Eisma group.
Horses.nl reported today that Dutch FEI rider Joyce Lenaerts is pregnant with her first child. The father of the baby is her long-time partner Marcel Sterrenburg with whom she runs a dressage stable near Eindhoven. The baby is due for May 2012.