2011 CDI Zhaskhov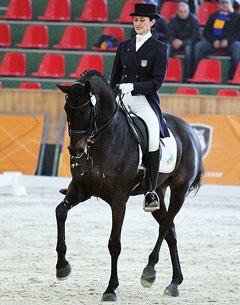 Ukrainian Svetlana Kiseliova and her 14-year old Ukrainian warmblood Parish (by Iris out of Pahma) dominated the big tour at the 2011 CDI Zhashkov, an international indoor competition running for the second consecutive weekend on 16 - 18 December 2011. The international field of competitors included riders from Ukraine, Russia, Belarus, Poland, the Netherlands, Malaysia and Morocco that aim to qualify for the Olympic Games.
Challenged by seven competitors, Kiseliova reigned supreme and won all three big tour classes.  With Paris she achieved  70,526% in the Intermediaire II, 71,426% in Grand Prix, and 76,225% in the Kur to Music. Kiseliova is trained by Yuriy Kovshov, who won Olympic team gold and individual silver at the 1980 Games in Moscow.
At the CDI Zhashkov last week Svetlana established a personal best score in the Kur to Music (77,150%). With her Zhashkov scores the rider has taken the top position in Group C and now has a bright outlook on 2012 Olympic participation.
The Zhashkov show circuit is sponsored and organized by the VIAN group which has stages 8 CDI's in Ukraine this 2011 show season. "It gave a great spur to the development of this discipline in Eastern Europe," said press officer Julia Parkhomenko. The venue of the competitions is theZhashkiv Stud Farm.
At small tour level VIAN head rider Inna Logutenkova won the Prix St Georges ( 68,895%) and Intermediaire I kur to Music (70,325%) while Dutch Tommie Visser topped the leaderboard in the Intermediaire I (68,711%).
The 25-year old Logutenkova was successful at small tour level this spring aboard Don Gregorius but for the indoor competitions she saddled the 9-year old KWPN gelding Diamond (by Hemmingway). She made her first Prix St Georges test ever in the spring and is now currently competing at international Grand Prix level with Stallone. She will be competing at the 2011 CDI-W Mechelen in Belgium next week.
Related Links
Scores 2011 CDI Zhashkov - 16 - 18 December
Scores 2011 CDI Zhashkov - 9 - 11 December