2011-2012 KWPN Stallion Competition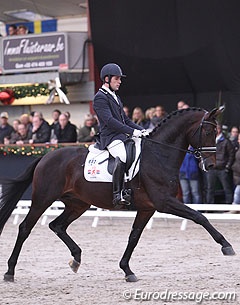 Chippendale, Bon Bravour and Zizi Top were the winners of the fourth and final leg of the 2011-2012 KWPN/KNHS Stallion Competition show circuit which concluded in Deurne, The Netherlands, on Wednesday 18 January 2012. The show in Deurne was the last qualifier before the finals held at the 2012 KWPN Stallion Licensing in 's Hertogenbosch, The Netherlands, begin February 2012.
Gert-Jan van Olst's KWPN stallion Chippendale (by Lord Leatherdale x Negro) dominated the L-level division. Ridden by the Spanish Severo Jurado Lopez, Chippendale scored 84 points to top the leaderboard. The winner of the previous three qualifiers, Edward Gal and the Oldenburg branded Jack Sparrow (by Johnson x Wolkentanz II), was second with 83 points. The black stallion excelled in trot and canter but was very tense and lost points in walk.
"Chippendale was very fresh, but a good boy," owner Anne van Olst wrote. "This horse is something very, very special. Severo well done. I am very proud of my two boys!"
Belgian Tom Franckx-Goen and the Dutch owned KWPN stallion Bon Bravour (by Painted Black x Chronos) returned to the show ring after missing out on the Zuidbroek qualifier because of a small injury. The combination was back on form and scored 85.5 points to win the M-level division. They referred Diederik van Silfhout on Briljant (by Uphill x Darlington) to a second place with 80 points. Kirsten Beckers and Bristol (by Jazz x Goodtimes) finished third on 77.5 points.
"I'm super happy," Franckx commented. "Bravour won with almost 86 (points) and Charming(mood - his second ride) almost 78 for the first time."
Hans Peter Minderhoud and the bright bay KWPN stallion Zizi Top (by Tango x Ferro) were in charge at Z-level in the absence of Emmelie Scholtens and Apache, which won the first three qualifiers. Minderhoud and Zizi Top scored 81.5 points to take home the trophy. Theo Hanzon and the elegant Amazing Star (by Flemmingh x Ferro) finished second with 79.5 points. Jana Freund and the German owned Demirel (by Dimaggio) were third with 76.5 points.
"Vitalis was 3rd and Zizi won," said Hans Peter. "And it has to be said, we had good and positive judges today."
The Deurne qualifier was judged by Marian Dorrestijn, Karen Nijvelt, and Jan Wolfs.
Photo © Astrid Appels
Results 2012 KWPN Stallion Competition Qualifier Deurne
L-level
1. Severo Jurado Lopez - Chippendale - 84 points
2. Edward Gal - Jack Sparrow - 83 points
3. Hans Peter Minderhoud - Vitalis - 82 points
4. Mirelle van Kemenade - Cachet L - 81.5 points
5. Jonna Schelstraete - Chicago - 81 points
6. Stephanie Peters - Cennin - 79 points
7. Tom Franckx - Charmingmood - 77.50
M-level
1. Tom Franckx - Bon Bravour - 85.5 points
2. Diederik van Silfhout - Briljant - 80 points
3. Kirsten Beckers - Bristol - 77.5 points
4. Stephanie Dorr - Bojengel - 72.5 points
Jana Freund - Delamanga - DNS
Kim Koolen - Bodyguard - DNS
Z-level
1. Hans Peter Minderhoud - Zizi Top - 81.5 points
2. Theo Hanzon - Amazing Star - 79.5 points
3. Jana Freund - Demirel - 76.5 points
4. John Tijssen - Armani -73.5 points
Related Links
Jack Sparrow, Briljant, Apache Win Third Leg of 2011-2012 KWPN Stallion Competition
Jack Sparrow, Bon Bravour and Apache Win Second Leg of 2011-2012 KWPN Stallion Competition in Roosendaal
Jack Sparrow, Bon Bravour and Apache Win First Leg of 2011-2012 KWPN Stallion Competition in Hengelo