2012 World Championships for Young Dressage Horses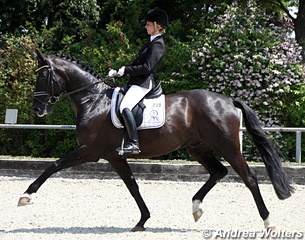 Thirty-eight 5-year olds and twenty-one 6-year olds are entered to take part in the German selection trial for the 2012 World Young Horse Championships in Verden, Germany. This year's German WCYH trial will be according to a new format with a mandatory training day followed by an official competition test, both judged by the selectors.
The German selection trial takes place at the DOKR Headquarters in Warendorf, Germany, on Tuesday 19 June 2012 with the training day and on Wednesday 20 June with the test riding.
The entered horses are:
5-year olds
Helen Langehanenberg - Damon's Delorange (by Damon Hill x Rubin Royal)
Eva Möller - Hands Up (by Hotline x Sandro Hit)
Holga Finken - Domenikus (by Don Marko x Rosentau)
Anke Simon - Lamborghini (by Lord Loxley x Pavarotti van de Helle)
Carola Koppelmann - Sandiego (by Sancisco x Davignon)
Isabel Bache - Bobcat (by Breitling x Silvano)
Markus Suchalla - Catoo (by Con Air x Caletto I)
Emmelie Scholtens - Connaisseur (by Con Amore x Donnerhall)
Marion Loew - Danccini (by Don Crusador x Metternich)
Anja Wilimzig - Dankeschon (by Danone I x Fidermark)
Laura Hassler - Diamo Gold (by Dimaggio x Ex Libris)
Ralf Kornprobst - Diamond of Glory (by Diamond Hit x Dream of Glory)
Katrin Burger - Diamond Song (by Diamond Hit x Sandro Song)
Ursula Wagner - Dilenzio (by Duino x Weltmeyer)
Heiner Schiergen - Discovery (by Dimaggio x Classiker)
Mike Habermann - Don Darius (by Don Frederico x Markus Deak xx)
Matthias Bouten - Feedback (by Fidertanz x Sandro Hit)
Peter Borggreve - First Selection (by First Final x Fidermark)
Jana Freund - Las Vegas (by Lord Loxley x Louis Le Bon)
Helen Langehanenberg - Diamigo (by Dimaggio x Freudenprinz)
Eva Möller - High Five (by Hochadel x Wolkenstein II)
Jan Eric Bremer - Hogan B (by Herzruf x Polarstern)
Christina Stamm - Duty Free (by Danone I x Sunny Boy)
Christian Flamm - Santiago (by Stedinger x Dacaprio)
Saskia Maertens - Legend of Loxley (by Lord Loxley x Darwin)
Beatrice Buchwald - Lord Carnaby (by Lord Loxley x Rocket Star)
Nicole Casper - Lord Leopold (by Lord Sinclair x Sandro Hit)
Ann Christin Wienkamp - Revolverheld (by Rockwell x Landstreicher)
Esther Maruhn - Rovereto (by Rousseau x Wolkenstein II)
Anna Sophie Fiebelkorn - Royal Ascot (by Royal Highness x Warkant)
Erik Bultjer - Sarotti (by Sir Donnerhall I x Cagliostro xx)
Therese Nilshagen - Sean Connery (by Sir Donnerhall I x Rotspon)
Kristiina Piiroinen - Shir Khan (by Samarant x Rubinstein)
Wibke Stommel - Silbermond (by Sir Donnerhall I x Ramiro's Son)
Holga Finken - High Lane (by Hotline x Brentano II)
Anke Simon - Rocky Lee (by Rock Forever x Justinian xx)
Helen Langehanenberg - Filaro (by Fidertanz x Landsieger)
Eva Möller - Sa Coeur (by Sir Donnerhall x Don Davidoff)
6-year olds
Christine Nolden - La Lopez (by Lord Loxley x Boss)
Victoria Michalke - Novia (by Stedinger x Alabaster)
Kristina Heuer - Rishu (by Rascalino x Cordoba)
Laura Hassler - Rosengold (by Rohdiamant x Diamond Hit)
Dorothee Schneider - Showtime (by Sandro Hit x Rotspon)
Thomas Sigtenbjerggaard - Sir Donnerhall II (by Sandro hit x Donnerhall)
Juliette Piotrowski - Sir Fashion (by Sir Donnerhall I x Rosenkavalier)
Juliane Brunkhorst - Snap Shot (by Sir Donnerhal I x Alabaster)
Tessa Frank - Stern von Nymphenburg (by Sir Donnerhall I x D'Accord)
Anja Wilimzig - Sunday (by Sandro Hit x Donnerhall)
Kim Pfeiffer - Will I Am (by Weltpoet x Rodgau)
Daniela Waxenberger - Amore San Remo (by San Remo x Lord Sinclair)
Ariane Dierkes - Beilando (by Belissimo x Don Primero)
Anja Engelbart - De Champ (by Daddy Cool x Caprimond)
Katrin Burger - Fifth Avenue (by Florencio x Dormello)
Marcus Hermes - Flynn PCH (by Falsterbo x Walt Disney)
Fie Skarsoe - For My Love (by Furst Heinrich x Don Schufro)
Anna Sophie Fiebelkorn - Royal Classic (by Royal Highness x Florestan)
Helen Langehanenberg - Reliance (by Rohdiamant x Freudenprinz)
Jana Freund - Delamanga (by Dr Jackson x Heraldik xx)
Ines Westendarp - Furstenball (by Furst Heinrich x Donnerhall)
Photo © Andrea Wolters
Related Link
Eurodressage Coverage of the 2012 World Young Horse Championships