Westfalian Auctions in Münster-Handorf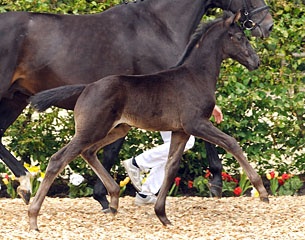 On 12 and 13 August 2012 Münster-Handorf is once again location to become a foal owner. The Westfalian Elite Foal Auction collection consists of about 200 elite-foals and 27 elite-pony foals. Traditionally, the main focus is on the first foal crop of young stallions.
This year it will be the offspring the Licensing champion Silbermond and reserve champion Vitalis, who competed at the World Young Horse Championships in Verden this wekend.
Further offspring is sired by third ranked Feedback, the jumping licensing champion Cristallo II or the 30-day-test winner a'Lee Spring Power. Also the proven sired Real Diamond, Diamond Hit, Belissimo M, Lisarro, Comme il faut, Cornet Obolensky, Cornado or Quidam de Revel are going to enrich the collection with their offspring..
You can become the owner of foals part of the first crop of Franziskus, Sir Heinrich, Licensing champion A la Carte NRW or Don Juan de Hus, the champion of his 30-day Performance test.
Catalog title hero is a colt by Damon Hill NRW, who is competing at London Olympics with Helen Langehanenberg. The liver chestnut sire took  double gold at the 2012 German Championships.
 
The entire collection can be viewed at www.westfalenpferde.de
 
Auction catalogues can be ordered with
 
The Saturday auction will start at 5:00 p.m.. The auction on Sunday will start at 2:00 p.m.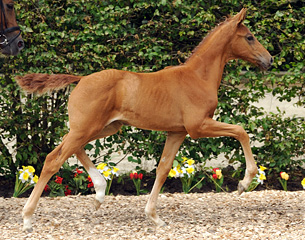 You can follow the auction live on the internet at  www.clipmyhorse.TV As in previous years, the 23rd NRW Foal Auction is going to be broadcast live on the internet, so everyone who is interested but cannot be in Münster-Handorf has the chance to get an impression of the foals.
To make a bid via telephone, please register before Friday, August 10, 2012 at auktionsbuero@westfalenpferde.de with your name, adress and telephone number and specify potential foals. Then our sales team will call you back during the auction.
The 27 pony foals of the collection are going to be auctioned on Sunday.
Schedule
Saturday, 11 August:
 
2:00 p.m. presentation of the foals
4:00 p.m. Presentation of 3y. old stallion
5.00 p.m. 22nd NRW Foal Auction (1st part)
 
Sunday, 12 August:
 
10:00 a.m. presentation of the foals
2:00 p.m. 22nd Foal Auction (2nd part)
 
Free entrance on both days
 
For more info, contact
Westfalen Horsebreeding Association e.V.
Sudmühlenstr. 33, 48157 Münster
Phone: + 49 251 32809 0
Fax: +49 251 32809 24
E-mail: uphoff@westfalenpferde.de