German Dressage News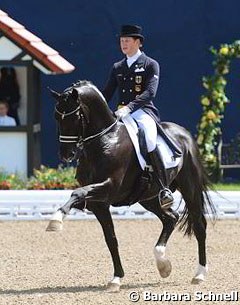 In an interview with German magazine Spiegel Paul Schockemohle admitted that the first two years of Totilas being in German ownership were far from perfect. In a drastic act to make things right, the stallion owner and mogul has decided not to stand Totilas at stud in 2013.
"Everything went wrong that could have gone wrong," Schockemohle stated about Totilas' annus horribilis in 2012. The Dutch warmblood stallion has been owned by Schockemohle and Linsenhoff since 2010 and while 2011 was quite successful in 2012 the stallion got injured and then had a disappointing public appearance in stallion show. He came back with a vengeance at the CDI Hagen, but stirred major commotion by being trained and ridden in the controversial LRD-position. The black World Champion had to settle for silver at the German Championships and in June the multiple million euro stallion was withdrawn from competition as well as Olympic contention because his rider suffered from Pfeiffer disease.
In order to make major change happen in 2013 Schockemohle is willing to loose thousands of euros in stud fees. He will not be standing Totilas at stud via fresh semen.  "Next year sport will be the exclusive focal point," Paul stated. "We are optimistic."
Matthias Rath and Totilas are currently in training with 62-year old former Dutch team trainer Sjef Janssen.
Source: Spiegel
Photo © Barbara Schnell
Related Links
German Branch PETA Files Charges Against Totilas' Owners
Matthias Rath and Totilas to Return to the Show Ring in 2013
Matthias Rath and Totilas Withdrawn from 2012 Olympic Contention