2013 New Zealand Dressage Championships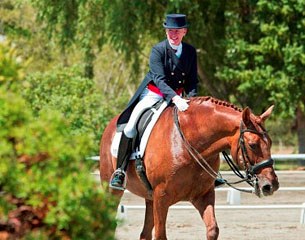 Lynley Stockdale and Komplete Kaos received just the tonic needed prior to packing their bags and heading North for 6 weeks. The talented big chestnut and his rider proved that they were in a class of their own in the 2013 New Zealand Grand Prix Championship at the Sheds NZ National Equestrian Centre on 1- 3 February 2013.
Scoring a personal best of 67.1% in the Grand Prix Kur to Music Stockdale was ecstatic with the result: "I am very, very excited – this is just awesome!" The pair also dominated the Grand Prix, winning the class with 64.340%.
Stockdale is based at Tiecley Park and competing at the North Island Championships and Horse of the Year, and if all goes well a trip to Australia for the Sydney CDI beckons. The partnership between this handsome horse and his rider continues to grow and nothing makes Stockdale happier "I was smiling away in my musical today because I was having so much fun!"
Reserve Champion to Stockdale was local rider Sally Field-Dodgson and the grey mare Amberleigh Elite whilst Wendy Hamerton and Pot Of Gold were awarded the Trotter Trophy for Intermediate II Champion.
French Wins the Prix St Georges Trophy
Marlborough 19-year old Nicola French won the Hobson Trophy for the Prix St George Championship. Riding Don Freese in just their second competition at the level the duo dominated the musical freestyle on Sunday with an emphatic 70 percent score. The Massey University student is planning to take Don Freese back to his homeland of Germany to compete mid-year. "We have had him since he was four years old and he is my first hack so we have learnt together. I can't imagine life without him" French said.
Reserve Champion was experienced local rider Jenny Scotter on Kinnordy Gallium. Anya Durling continued her domination of Level 5 with Rosari Guest Star. The combination has proved untouchable in both the Hatton Horse Floats Challenge and the Bates Championship. "He was a bit tired today but overall I am thrilled with his performances this weeknend" Durling said. The Bates Nationals are the duo's last major show of the season with Durling busy at work so unable to travel North. The off season will be used to push forward with training and Rosari Guest Star will be aimed at Level 6 competitions next season. Hielke De Graaf, another Dunedin rider, was Reserve Champion with Don Freese.
2013 New Zealand Young Horse Championships
In the other big competition for the day it was Sue Hobson and the 4-year old Solo who won the Elite Equine Young Dressage Horse Championship. Guest rider Marlen Vasil described Solo as "a horse who gave an extraordinary feel with a lot of elasticity and bounce". For Pahiatua based Hobson it was the perfect conclusion to a busy weekend both riding and judging "I am seriously surprised to win the overall title amongst such good company. I am very proud of how he has coped with his journey South," exclaimed Hobson.
Astek Ghisella and Janelle Sangster-Ward were six year old winners while Go Lightly and Holly Merritt were announced as 5 year old victors. Both are by Kinnordy Gym Bello.
Results - 2013 New Zealand Dressage Championships
4-year olds - Qualifier
Judges: Schwenesen, King
1. Sue Hobson - Solo - 79.500
2. Rebecca Rowlands - Southwell Rendevouz - 76.000
3. Helen Boyd - Gemma MH - 75.700
4. Georgia Lovelady - Volrath la Vida - 71.300
5. Thomas Oldridge - Astek Godiva - 70.700
6. Sophie Griffith - Frangelico - 68.700
7. Rose Hore - Ananoir - 65.600
8. Tracy Kovacs - Zakeel - 62.500
9. Franzi van Bruggen - Fortunato - 62.00
10. Thomas Oldridge - Prima Donna LHE - 60.800
4-year olds - Finals
1. Sue Hobson - Solo - 82.65
2. Rebecca Rowland - Southwell Rendevouz - 79.20
5-year olds - Qualifier
Judges: Swenesen
1. Janna Greene - Grandiosie - 76.357
2. Holly Merritz - Go Lightly - 75.286
3. Susan Tomlin - Dancealong - 69.071
4. Karolyn Norton - Larapinta Primadonna - 68.786
5. Laurel Carre - Lothario KC - 68.429
5-year olds - Finals
1. Holly Merritt - Go Lightly - 76.54
2. Janna Greene - Grandiosie - 74.28
6-year olds - Qualifier
Judge: Schwenesen
1. Janelle Sangster-Ward - Astek Ghisella - 66.357
2. Jacqui Winspear - JW Darjeeling - 62.857
3. Carol Bloemfield - Mercury Arisen - 59.643
6-year olds - Finals
1. Janelle Sangster-Ward - Astek Ghisella - 68.08
2. Jacqui Winspear - JW Darjeeling - 64.83
Intermediaire II
Judges: Matheson, Fox, Hughes-Keen, Usher, Bird
1. Sally Field-Dodgsen - Amberleigh Elite - 63.816
2. Lynley Stockdale - Kompete Kaos -  62.842
3. Wendy Hamerton - Pot of Gold - 57.789
Grand Prix
Judges: Greenslade, Schwenesen, Bird, Hughes-Keen, King
1. Lynley Stockdale - Kompete Kaos - 64.340
2. Sally Field-Dodgsen - Amberleigh Elite -62.149
3. Wendy Hamerton - Pot of Gold -55.447
Grand Prix Kur to Music
Judges: Warren-Davey Thorowgood, Schwenesen, Fox, King
1. Lynley Stockdale - Kompete Kaos - 67.100
2. Sally Field-Dodgsen - Amberleigh Elite - 62.950
3. Wendy Hamerton - Pot of Gold - 56.225
Related Links
Two Riders Entered for 2013 New Zealand Grand Prix Championships
Kate Welten Retains Title at 2013 New Zealand Young Riders Championships
Louisa Hill Wins 2012 New Zealand Grand Prix Championships