2013 Dutch Indoor Pony Championships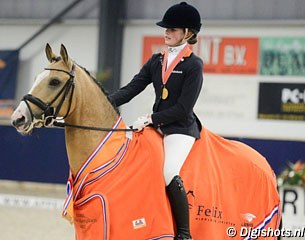 Febe van Zwambagt and her 7-year old buckskin German Riding Pony Coco Jambo won the 2013 Dutch Indoor Pony Championships at FEI Pony level. Because construction is going on at the KNHS National Equestrian Centre in Ermelo, the Indoor Championships moved to the Equestrian Centre in Utrecht, The Netherlands. The FEI Pony level championships were held on 15 March 2013.
Febe van Zwambagt and Coco Jambo (by Champion de Luxe) scored 74.27% in the Team Championship Test and beat silver medalist Demy Kurstjens on her compact Dutch bred chestnut pony Ciske van de Beekerheide (by Conquest), who finished second with 73.25%. The bronze medal went to Lisanne Zoutendijk on the buckskin German Riding Pony and 2012 European Pony Champion Champ of Class (by Champion de Luxe). The duo scored 71.79% to slot in third.
"I didn't expect to win," van Zwambagt commented after her victory. "It's my first big title with Coco." Febe had the choice to ride either of her two ponies at the Indoor Championships but preferred Coco Jambo of Dr. Watson "I have a bit of a better click with Coco. He was totally on form today," said the 15-year old. "Yesterday during training he went really bad but today in the warm up he felt very good."
Trained by Nicolet van Leeuwen and Seth Boschman,  Febe van Zwambagt is working on a big future with much dedication. When asked what makes her a good rider, she said "I can ride very precisely and stay calm." Febe's goal of the season are the 2013 European Pony Championships in Italy.
Photo © Leanjo de Koster
Results - 2013 Dutch Indoor Pony Championships
Judges: Bonhof, Boomaars, Blanken
1. Febe van Zwambagt - Coco Jambo - 74.27
2. Demy Kurstjens - Ciske - 73.25
3. Lisanne Zoutendijk - Champ of Class - 71.79
4. Jelle Peeters - Nandor - 70.85
5. Joelle Peters  - Haasendonk's Sultan - 68.21
6. Gyvano Schouws-  Bugatti - 67.95
7. Zoe De Booij - Voltage - 65.81
8. Floor van Manen - Divano du Bois - 65.56
9. Bo Oudhof - Day of La Divinia - 65.51
10. Rianne Kooistra - Leuns Velds Winston - 65.21
11. Shanna Lust - Stukhuster Orlando - 65.09
12. Kaylee Gouda - Dollar Girl - 64.32
13. Vera van Winkoop - Meijerhoeve's Roy - 64.10
14. Paulette Kral - Orchid's Borneo - 63.68
15. Veronique van der Panne - Rhyfedd Spike - 63.38
16. Daphne van Peperstraten - Make My Day - 63.12
17. Amber Vermeer - Majos Cannon - 63.03
18. Kim de Jonge - Sandokan - 62.39
19. Annelie Hoekstra - Pop Star - 62.18
20. Guusje Van Heeswijk- Klavertje Character - 60.94
21. Isis Haccou - Cinderella du Bois - 60.09
22. Lisa Paping -  Coelenhae's Roxette - 58.33
23. Jill Hendriks - Keulse Hoeve Zorro  - 57.91
24. Gioia Van Den Corput- Maiestic Sogno - 57.52
Related Links
Sanne Vos, 2012 Dutch Indoor Pony Champion
Michelle de Jonge, 2011 Dutch Indoor Pony Champion
Maria van den Dungen, 2010 Dutch Indoor Pony Champion
Dana van Lierop, 2009 Dutch Indoor Pony Champion
Maria van den Dungen Claims Second Dutch Indoor Pony Champion's Title
Maria van den Dungen Wins the 2007 Dutch Indoor Pony Championships
Laurens Sliepenbeek, 2006 Dutch Pony Indoor Champion