2013 CDI-W Zhashkov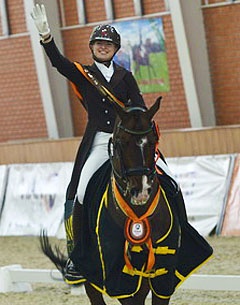 Ukrainian dressage rider Inna Logutenkova took out the Grand Prix and the Grand Prix kur at the 2013 Central European League World Cup Finals on home turf in Zhashkov, Ukraine.  Scoring 68.383 and 71.750% she feels these achievements are the highlight of her career so far as they qualified her to make her debut at the 2013 World Cup Finals.
"For me, this competition was very successful as it was my first victory at such a level," Inna told Eurodressage. "Plus, this is the best test of my career with my horse Vian Stallone. It was a great psychological pressure for me to succeed in the World Cup Final particularly as I was competing at home and felt that I should win. My horse and I came through, and I'm very happy with our success."

Supported by her team, her family and her friends, Inna switched from training with Anky van Grunsven to Sjef Janssen in Erp, The Netherlands, last October 2012. Describing her training method as "Classical Dressage", Inna trusts her coach and she has followed all of his instructions to get her horse to the top. Logutenkova's partner-in-crime is the 14-year old Dutch warmblood Stallone (by Lancet).

"To me he is a person and my true friend," she said. "If he were really a man he would have been a teacher of kung fu and would say to me: "I am not a teacher. I'm just helping you to learn yourself!"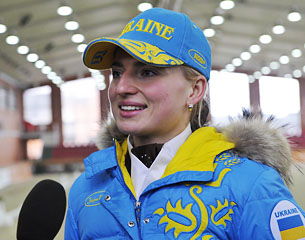 Purchased in 2011 from Simone van Wijngaarden in The Netherlands, Stallone now lives with Inna at her stable in Belgium which is close to her trainer. "I moved to Belgium so I would be able to train every day and I was lucky that my sponsors bought me the stables in Malle, Belgium, not far away from the Anky Education Center."
After returning from the long trip from Ukraine to Belgium, Stallone got a short break from training. "We then have two weeks (before the World Cup Finals) and I will go for the training with my coach Sjef Janssen every day," she explained.
An extramural student at the National University of Physical Education and Sports in the Ukraine, Inna must journey regularly to her home country for exams and often brings her horses along for some home action.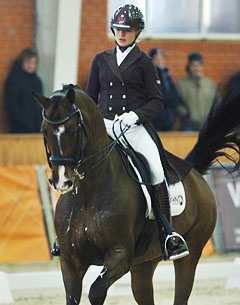 "I try to also come to Ukraine to participate in all the national competitions. However, I don't feel any difficulties training and competing as a Ukrainian in Europe. I really love my country and of course I miss my home and my friends but at the same time all the modern means of communication, such as Skype, help me a lot," she said.

Set for the 2013 World Cup Dressage Final in Gothenburg, Inna has already planned furter ahead. Her next stop after Sweden will be the Ukrainian Open Championship in Zhashkov in May.  "From there we will continue to train for the Europe Championship in Denmark and this autumn I would like to make my début in Grand Prix with several of my new horses," she added.
by Sarah Warne for Eurodressage
Related Links
Belarusians Dominate Central European League Qualifiers, Ryan Wins 2013 Pacific League Final
Entries Confirmed for 2013 Gothenburg World Cup Final
Scores: 2013 CDI-W Zhashkov
Jebsen Receives 2013 World Cup Finals' Wild Card, Fortmuller By-Passed