2013 CDI Munich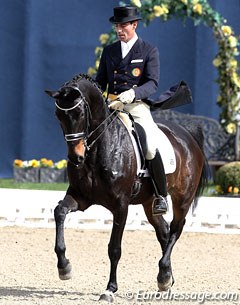 Portuguese Nuno Palma e Santos and German Kathleen Keller booked victories in the national classes held at the 2013 CDI Hamburg on Friday 10 May. Palma e Santos won the Warm up test for the Louisdor Cup qualifier for developing Grand Prix horses, whereas Keller dominated the Under 25 class.
Rose Response is the name of the 9-year-old Hanoverian winner of the warm up class for Louisdor Prize Young Horse Grand Prix. The young lady made Nuno Palma e Santos very proud, achieving 69.79% for her trainer. The Louisdor Prize is the most important series for eight to ten year-old young grand prix horses and its second leg takes place in the Derby Park on Saturday. Rose Response belongs to Barbara Welding and she too now has her hopes set on qualification to the series finale in Frankfurt.  This will be decided in the Short Grand Prix at 14.00 on Saturday.
 
Kathleen Keller (Hamburg) won the qualification to the final of the U25 tour in Hamburg.  The student, who won the German Dressage Derby two years ago and, at the same time, the U25 Derby, can concentrate fully on 9-year-old Lord this weekend, as Wonder FRH – her derby horse – took an unscheduled 'time out'.  The gelding was romping happily around his paddock after the derby test in Lübeck last weekend when he strained a muscle. 
Dolf-Dietram Keller, Kathleen's father and himself a derby winner, took it in good humour: "You exercise the utmost care for your horse and then something like this happens.  But seriously, our horses all go out to the meadows regularly and very rarely injure themselves.  This was really bad luck."
Anna-Lena Kracht from Hamburg with Corifeo and Marie-Theres Bahn (Grönwohld) with Dr. House followed in second and third place. And with that the women's trio for the U25 dressage final on Saturday is complete, and don't forget the horse exchange.
Photo © Astrid Appels
Related Links
Scores: 2013 CDI Hamburg
Balkenhol Wins Qualifier for 2013 Hamburg Dressage Derby Final