Dutch Dressage News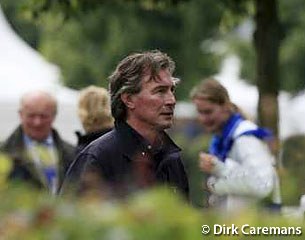 Renowned Dutch veterinarian Emile Welling has been appointed the new Dutch team veterinarian at an administrative and directorial level. The Blaricum based vet is also the team vet for the eventing discipline.
Welling was also on the board of the Dutch Equestrian Federation (KNHS) but had to resign from this position to become the main veterinarian within the federation.
Emile will be advising the KNHS Management team in all cases related to veterinary medicine and horse welfare. He will also be the spokesperson for veterinary cases in the "Sectorraad Paarden".
"After some thinking time I chose for the job as team veterinarian, with which I can continue as eventing team vet. Eventing is growing and there is a lot of potential for th next years," said Welling. "I feel very involved with it, just as I'm equally involved with horse welfare and health."
The KNHS Board includes chair Theo Ploegmakers, vice-chair Max Bentum, secretary Hidde Frankena, Emile Hendrix, Erna Bronsvoort-Willemink and Maria Henneman.
In 2007 Welling was briefly the Dutch dressage team vet, succeeding Hans van Schie, but the job conflicted with his time schedule.
Photo © Dirk Caremans
Related Links
Jan Greve Returns as Dutch Dressage Team Veterinarian
Greve Resigns as Dutch Team Vet Due to Conflict with Sjef Janssen
What's Happening: November 2007 - Part 2