2013 CDI Pompadour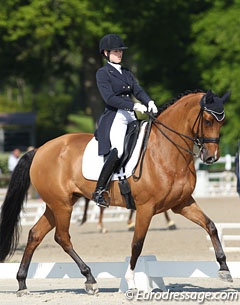 At age 18, Belgian Young Rider Alexa Fairchild will accomplish an impressive feat when she rides down the centerline at the 2013 European Young Riders Championships in Compiegne, France, next week. The New York born rider is heading to her seventh, consecutive European Championships, this year qualified for the Belgian team with her Dutch warmblood Timor.
In preparation for Compiegne Fairchild travelled south to France last weekend to compete at the 2013 CDI Pompadour. Alexa was extremely happy with her fault-free tests in the Young Riders' division. She began with a 67.237% for second place in the team test, followed by a double victory in the Individual and kur with 70.368% and 73.925%.
"I was very happy," said Fairchild about her triumphs at Pompadour. "They were the first faultless tests I had done with Tum Tum. He was very engaged and we both had a good time!"
Having met the criteria to compete at the 2013 European Young Riders Championships, Alexa made it onto the the Belgian team as her results this season have secured her position among the top tier of the team.
"I am very excited and proud to be selected for the seventh consecutive year," Alexa beamed. "My aim is to compete at the highest level and to keep improving my performances. I think that this year we have a very positive and strong team. We all have high aims and are willing to fight for a medal!"
Looking forward to the competition and atmosphere in Compiegne, Alexa is busy working on success strategies with her trusty trainer Virginie Deltour. In the lead-up of the event, the Belgian team riders were also invited to Anky van Grunsven's Education Centre, where they had an eye-opening and helpful experience.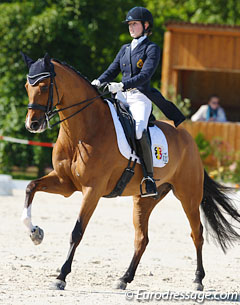 "We also had a session with a sport psychologist that helped us work out how to manage stress and build our team spirit," Fairchild explained.
Fairchild acquired the 13-year old Dutch warmblood Timor (by Matterhorn x Indoctro x Joost) only eight months ago in December 2012 but has gelled with the bright bay gelding at astonishing speed. Nicknamed Tum Tum, the KWPN branded Timor has three excellent basic gaits, an active hind leg and a fantastic work ethic. Alexa feels they are getting stronger as a combination each day.
"As we have now got to know each other better, most of our difficulties have been resolved and it really felt good to win in Pompadour as it boosted my confidence for the Europeans," she admitted. "Timor always gives his most and I am very attached to him."
Based in Brussels, Belgium, Alexa graduated from high school at the end of June and has planned on taking a sabbatical next year to focus on her riding. After the European Championships, she will focus her attention on making the transition to Under 25 Grand Prix level.
Photos © Astrid Appels
Related Links
Young Rider Alexa Fairchild Wields the Axe of Power at the 2013 CDI Vidauban
Belgian Teams Named for 2013 European Junior and Young Riders Championships
Grand Prix Horse Tum Tum Acquired for Alexa Fairchild