What's In a Name?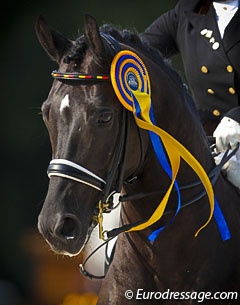 What's in a name?
 Why are horses called what they are called? This is the introduction to a new series that will journey to uncover the hidden meaning, or reason why some of our equine stars are given such interesting and often intriguing names. 
To kick start our series, we picked Furst on Tour, Anna-Christina Abbelen's 2013 German Junior Riders Champion.
Furst On Tour started to turn heads when he took team gold for Germany at this year's European Championships in Compiegne, France. He awent on to claim individual silver in the kur with an outstanding score just under 80%.

"The first owner, which were the Tempel family named him," Anna told Eurodressage.
"I really do not know why they named him that because we bought him when he was four."

Catching up with Furst's original owner Ina Tempel, I discovered that the name "Fürst" was used because of his sire Fürst Heinrich and that they called him "on Tour" with the dream that this horse would  be a big success.
 "We hoped that with this name he will be often on tour, or on the way to the top," said Ina Tempel.
Although the horse's name hasn't got a particular meaning, in Germany a "Fürst" is a noble like a king or prince for example, so the Tempels feel that you could say his name is a little bit distinguished.
 Anna is convinced that the name totally fits her star junior partner because when he enters the competitive arena, he always feels like a "King"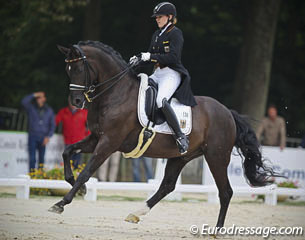 "He shows this with the high degree of attention he pays to me in the arena and his movements get greater, and bigger, and fancier, when he sees the competition atmosphere," said a proud Abbelen.

Known in the stable as Fursti, Anna feels he is really lovely but sometimes a little bit crazy. 
"Of course this is also because he is ''only'' 8 years old but he never gets nervous and is everytime very concentrated and always wants to do everything right for me.
 He hates to make a mistake, which he does not often  and for me he is quite perfect!"

If Furst On Tour could talk, Anna thinks he would say something along the lines of "Hey, here I am and please watch every step I take. Pay attention when I come in!''
 Also adoring his stable name,  Anna sees that everytime she calls him Furst, he takes his head out of his stable and is thinking, ''oh, who was calling me? ''
When? Where? who?...Here I am !!"
by Sarah Warne for Eurodressage
Photos © Astrid Appels
Related Links
Eurodressage Image Database: Furst on Tour
Rothenberger, Abbelen, Niemann Win 2013 German Youth Riders Championships
Von Danwitz and Habitus Strut to Kur Gold at 2013 European Junior Riders Championships
Von Danwitz and Dufour Win Kur Gold at 2013 European Junior/Young Riders Championships