2013 Swedish Warmblood Elite Foal Auction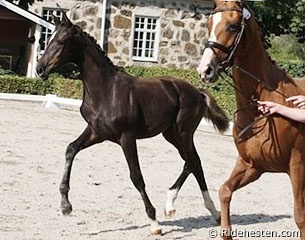 Donna Antique became the top selling foal at the 2013 Swedish Warmblood Elite Foal Auction in Flyinge, Sweden on 14 September 2013. A total of 28 foals were presented and 24 were sold.
The bay filly Donna Antique (by Ampere x Don Schufro x Weltmeyer) achieved the top knock down price of 160,000 SEK (18,373 euro) and sold to Danish young rider Anna Zibrandtsen. She also acquired Beaumont (by Bordeaux x Sir Donnerhall I x Weltmeyer).
The second most expensive foal was Mr Aviator (by JJ Rayban x Warsteiner x Cyrano) which sold for 117,225 euro to Swedish investor Patrik Hannel. He also bought Jacques Carneo F (by Ampere x San Amour) for 12,631 euro and Amsor (by Ampere x Kaliber) for 8,612 euro.
Swedish Grand Prix rider Sofie Lexner purchased the bright bay filly K-Mrs Edison (by Ampere x Figaro R x Sack) for 9,760 euro. Jan Brink bought the colt Connery (by Common Sense x Ludwigs Champion) for approximately 8,000 euro.
Danish stallion owner Per Skjaerbaek acquired the colt Napoli TH (by Floricello x Flemmingh) for 14,350 euro, colt Adonis G (by San Amour x Good Future) for 11,000 euro and Mio FS (by Floricello x Hertug) for 8,612 euro. For My Dream af Sol (by Dream Boy x Cortez) Skjaerbaek paid 8,000 euro.
The top priced jumper foal was Carneol L (by Cardento x Cortez x Damels) which sold for 12,000 euro to the Hellberg family of Hannetorps Gard.
The average price for a dressage foal was 10,600 euro, for a jumper 9,200 euro.
Complete results here.
Source and photo © Ridehesten.com