2013 Swedish Young Horse Championships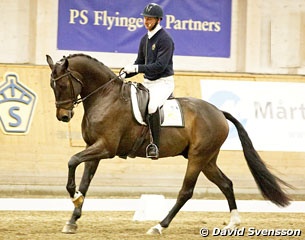 The 3-year old Springbank, the 4-year old Revolution, the 5-year old Bilan, and the 6-year old Rausing became the grand champions at the 2013 Swedish Young Horse Championships held in Flyinge, Sweden, the entire week from 1- 6 October 2013. Especially the Danish warmblood sire Skovens Rafael made his mark as his offspring finished first in the 3 and 4-year old division as well as captured silver in the 4-year old class.
In the 3-year old division Mattias Jansson and the tall liver chestnut Swedish bred Springbank (by Skovens Rafael x De Niro) reigned supreme with a 93.600 score in the finals. The judges for the division were Lars Andersson, Susanne Baarup, and Elisabeth Lundholm and they picked twelve 3-year olds from the first round to move on to the finals. Jansson and Springbank, which is bred by Tobias Hansson, posted straight 9.5 scores for gaits, 8.5 for rideability and 9.8 for general impression to win the title with 93.60. Emilie Nyrerod and the Swedish bred Messi Ang (by Belamour x Corrado) were the runners-up with 88.20.
In the 4-year old age category the Skovens Rafael (by Romanov x Don Schufro) offspring certainly made their mark. Anna Svanberg steered the Swedish bred Revolution (by Skovens Rafael x Furst Heinrich) to a clear victory with 93.250 points, but Emilie Nyrerod stayed closely on her heels aboard U Bolt (by Skovens Rafael x Cortez) becoming the reserve champions with 91.400 points. The 4-year old finalists were all test ridden by Swedish international Grand Prix rider Patrik Kittel, who made his debut as a guest judge rider. Kittel described Revolution as a horse with Grand Prix potential and U Bolt as a horse giving the rider a wow feeling.
Swedish Grand Prix rider Minna Telde aced the 5-year old division aboard her very talented Swedish bred Bilan (by Bocelli x Donnerschlag). The posted a winning score of 90.200 in the finals, achieving for instance 9.1 for trot and 9.2 for canter. They stayed clear of the runners-up, Cecilia Kristoffersen on the Swedish bred Ivory (by First Wish x Bernstein) who earned 85.800 points with an 8.3 for walk, 8.8 for trot and 8.5 for canter.
The 6-year old division featured a large field of competitors and the Swedish routiniers and 4-year old champions of 2011, Sandra Sterntorp on the Westfalian licensed stallion Rausing (by Rock Forever x Dimension), topped the leader board with 90.20 points. Owned by American Elizabeth Ball in partnership with Sterntorp, Rausing scored 8.6 for trot, 10 for walk, 8.8 for canter, 8.7 for submission and 9.0 for general impression. Cecilia Kristoffersen and the Swedish bred Calaiza T (by Calido x Cortez) became the reserve champions with 83.00 points. The horse got 9 for trot, 7.5 for walk, 8.5 for canter, 7.7 for submission and 8.8 for general impression.
Photo © David Svensson
Results - 2013 Swedish Young Horse Championships
3-year olds
1. Mattias Jansson  - Springbank (by Skovens Rafael x De Niro) - 93.600
2. Emilie Nyreröd - Messi Äng (by Belamour x Corrado) - 88.200
3. Mia Runesson - Odd Molly (by Zuidenwind x  Guinness) - 84.400
4. Pernilla André Hokfelt - Darling (by Dalwhinnie x Don Schufro)  - 83.800
5. Yvonne Österholm - Dorette (by Quaterback x Don Schufro) - 81.400
6. Mattias Jansson - Botticelli (by Bocelli x Rambo) - 80.800
7. Sandra Sterntorp - Fürst Royal (by Fürstenball x Rubin Royal) - 79.600
8. Ida-LInn Lundholm - RayMore (by JJ RayBan x Figaro R) - 77.400
9. Mikaela Alderin-Danielsson - Bossanova (by Bocelli x Lobo) - 77.200
10. Anita Roslund - F. Jugularis (by Jazz x Fürst Heinrich) - 75.000
11. Ulrika Jacobs - Dreamlous (by Don Romantic x Bernstein) - 74.600
12. Mattias Jansson - F. Venganza (by Jazz x Lemon) - 72.800
4-year olds
1. Anna Svanberg - Revolution (by Skovens Rafael x Fürst Heinrich) - 93.250
2. Emilie Nyreröd - U. Bolt (by Skovens Rafael x Cortez) - 91.400
3. Yvonne Österholm - Quarton (by Quaterback x Don Schufro) - 90.250
4. Maria von Essen -Dora (by Don Primero x Amiral) - 83.650
5. Mia Runesson - Fling for U (by Don Romantic x OO Seven) - 81.700
6. Ida-LInn Lundholm - Sankt Erik II (by Johnson x Weltmeyer) - 81.550
7. Yvonne Österholm - Frans Andreo II (by Sandreo x Weltmeyer) - 81.050
8. Sandra Sterntorp - Final Cut (by Fürst Romancier x Dormello) -  80.400
9. Anki Carlsson - Fakir ( by Florencio x Davignon) - 79.900
10. Katarina Jivemo - Fabio (by Florencio x De Niro) - 79.750
11. Mads Hendeliowitz - To To E (by Damino SD x Rubinrot) - 74.550
5-year olds
1. Minna Telde - Bilan (by Bocelli x Donnerschlag) - 90.200
2. Cecilia Kristoffersen - Ivory (by First Wish x Bernstein) - 85.800
3. Amanda Meijer - Caruso (by Don Romantic x Pontus) - 84.200
4. Anna Svanberg - Diva (by Richfield x Silvano) - 83.200
5. Pernilla André Hokfelt - Adriano (by Don Primero x Magini) - 83.000
6. Minna Telde - Dunhill (by Oscar x  Cocktail)  - 80.600
7. Anna Svanberg - Belisko (by Belissimo M x Bellini- 79.600
8. Jennifer Svensson - It's Ad Hoc (by Danone x Maistic) - 79.200
9. Anna Espelund - Lillevangs Pari-Lina (by Rush Hour x Fanal Prydsholm) - 78.200
10. Eva Fahlbrink - Dexter (by Westpoint x Flemmingh) - 76.400
11. Jan Brink - Zaladin MI  (by Zack x Solos Landtinus) - 75.600
12. Britt-Marie H-Ivarsson - Rozette (by Rosevelt x Ragazzo) - 73.600
12. Christian Bengtsson - Zidane de R (by Don Romantic x Crelido) - 73.600
14. Jeanna Högberg - Dan Brown (by Dancier x Hohenstein) - 73.000
15. Caroline Darcourt - Zpektakel (by Wladimir O.A. x Don Charly) - 71.600
6-year olds
1. Sandra Sterntorp - Rausing (by Rock Forever x Dimension) - 90.200
2. Cecilia Kristoffersen - Calaiza T (by Calido I x Cortez) - 83.000
3. Olof Axelsson - Bollinger (by Benvenuto x Dimaggio) - 82.400
3. Emma Mattisdotter - Cocu (by Florencio x Jazz) - 82.400
5. Anna Svanberg - Nina la Belle (by De Noir x Cortus)  - 81.800
6. Martina Wikström - Santiago (by Topaasch x Rubinrot) - 80.200
7. Mads Hendeliowitz - Chupa Chup (by Sorento x Fidermark) - 79.800
8. Denise Ljungkvist - Soéga (by Sandakan x Amiral) - 78.000
9. Maria von Essen - C'est la Vie (by Johnson x El Corona) - 76.200
10. Anna Sundström - Luxus CML (by Florencio x Bolero) - 75.000
11. Omppu Saarinen - Kalhave's De Nora (by De Noir x Andiamo) - 74.600
12. Anita Roslund - Becquerel (by Bocelli x Stedinger) - 74.000
13. Charlotte Hamilton - Lord Hamilton (by Lord Loxley x Don Primero ) - 73.400
14. Christian Bengtsson - Winston (by First Wish x Corrado)  - 72.600
15. Catarina Hjärpe - Cerina E (by Saffraan x  Harald) - 72.200
16. Hanna Larsson - Floriana (by Florencio x Nactus) - 68.600
17. Jeanna Högberg - Caramelle (by Silvano x Campari M ) - 68.200
18. Sigrid Bergåkra - I Wish (by First Wish x Donnerfly) - 63.600
Related Links
Bonheur, Dunhill, Carlton Hill, JJ Rayban, Isac Win 2012 Swedish Young Horse Championships
Christo, Rausing, JJ Rayban, Isac and Hohenstaufen II Win 2011 Swedish Young Horse Championships
Sohn der Sonne, Bellagio, Isac, Jimmie Choo Win 2010 Swedish Young Horse Championships
Bellagio, Deja, Belamour and Paridon Magi Win 2009 Swedish Young Horse Championships
My Princess, Hohenstaufen II, Wladimir OA, and Yantuge win 2008 Swedish Young Horse Championships
First Wish, Excalibur of Avalon and Hermes, 2007 Swedish Young Horse Champions
Scores 2006 Swedish Young Horse Championships
Scores 2005 Swedish Young Horse Championships
Scores 2003 Swedish Young Horse Championships