KWPN Breeding News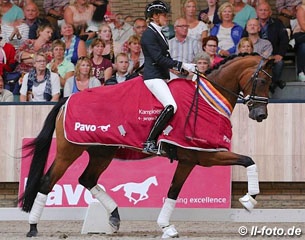 The 4-year old mare Fanita and the 5-year old stallion Eye Catcher won the 2014 Pavo Cup Finals at the KWPN Horse Days in Ermelo, The Netherlands, on Thursday 14 August 2014. The Pavo Cup is a show circuit for young KWPN registered horses. Today it poured with rain and the Finals had to move indoors.
After taking the lead in the semi finals yesterday, Emmelie Scholtens and the bay mare Fanita (by Vivaldi x Havidoff) kept a firm grasp on that first spot. In the finals today, Fanita remained in the lead after the morning round with 92 points. The top three ranked horses were test ridden by guest judge rider Eva Möller and Fanita received 90 points for talent and rideability from the German young horse expert to finish on a winning total of 271.  Scholtens' second ride in the 4-year old division, the gelding Fenix (by Vivaldi x Houston), became the reserve champion after scoring 88 points in the first final roun and 85 points from Moller. Maria Brouwer and Fabregaz (by Bordeaux x Democraat) were third.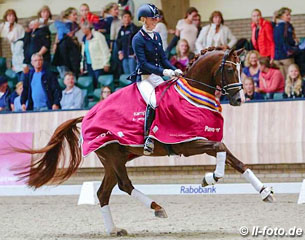 The 5-year old Eye Catcher (by Vivaldi x Partout), who won bronze at the 2014 World Young Horse Championships last weekend, also dominated the Pavo Cup Finals. After winning the semi finals, Kirsten Brouwer and the chestnut stallion scored 96 points in the morning and got a straight 10 from Eva Möller to total 290,5 points.  Marieke van der Putten and the black stallion El Capone (by UB40 x OO Seven) were the runners-up with 92 points in the morning and 95 from Möller to total 278,5 points. Emmelie Scholtens and the lovely Estoril (by Zhivago x Gribaldi) finished third with 270 points.
Photos © LL-foto
Results - 2014 Pavo Cup Finals - Ermelo
4-year olds
1. Emmelie Scholtens - Fanita (by Vivaldi x Havidoff) - 89 - 92 - 90 --- 271
2. Emmelie Scholtens - Fenix (by Vivaldi x Houston) - 82 - 88 - 85 --- 255
3. Maria Brouwer - Fabregaz (by Bordeaux x Democraat) - 85 - 87 - 80 --- 252
4. Frederic Wandres - Grey Flannell (by Gribaldi x Clavecimbel) - 84,5 - 85 --- 169,5
5. Emmelie Scholtens - Fraulein Lita (by Jazz x Farrington) - 82,5 - 86 --- 168,5
6. Anne Meulendijks - Ferrari (by Wynton x Contango) - 84,5 - 84 --- 168,5
7. Meerte Hekking - Fassada (by Johnson x Rhodium) - 84 - 84 --- 168
8. Noortje Radstake - Fortuna G (by Ampere x Welt Hit II) - 83,5 - 83 --- 166,5
8. Jennifer Sekreve - Ferrero (by Rhodium x Olivi) - 83,5 - 83 --- 166,5
10. Judith Ribbels - Funfun EB (by Sorento x Jazz) - 80 - 86 --- 166,5
10. Dinja van Liere - Fellini KS (by Wynton x Ferro) - 79 - 87 --- 166
5-year olds (top 10)
1. Kirsten Brouwer - Eye Catcher (by Vivaldi x Partout) - 94,5 - 96 - 100 --- 290,5
2. Marieke van der Putten - El Capone (by UB40 x OO Seven) - 91,5 - 92 - 95 --- 278,5
3. Emmelie Scholtens - Estoril (by Zhivago x Gribaldi) - 88 - 92 - 90 --- 270
4. Bart Veeze - Eos Utopia (by Ampere x Negro) - 87,5 - 90 --- 177,5
5. Diederik van Silfhout - Expression (by Vivaldi x Vincent) - 84,5 - 88 - 172,5
6. Stefanie Wolf - Erludine (by Jazz x Ferro) - 88,5 - 81 --- 169,5
7. Marie Jose Timmermans - Emperial (by Florencio x Tango) - 86 - 83 --- 169
7. Benjamin Maljaars - Everdale (by Lord Leatherdale x Negro) - 87 - 82 --- 169
9. Theo Hanzon - Top's Eddieni (by Johnson x Negro) - 83 - 84 --- 167
10. Theo Hanzon - Elancourt (by Ampere x Stedinger) - 83,5 - 83 --- 166,5
Complete results: 4-year olds - 5-year olds
Related Link
Fanita and Eye Catcher Take the Lead in 2014 Pavo Cup Semi Finals
Past Winners
Everdale and Dancer Win 2013 Pavo Cup Finals
Desperado and Charmeur Win 2012 Pavo Cup Finals
Charmeur and Borencio Win 2011 Pavo Cup Finals
Borencio and Amazing Star Go All the Way and Take 2010 Pavo Cup Finals
TC Athene and Zhivago Win 2009 Pavo Cup Finals
Zuidenwind and Wynton Win 2008 Pavo Cup Finals
Westpoint and Vivaldi Win 2007 Pavo Cup Finals
Santano and Ucelli T Win 2006 Pavo Cup Finals
Uptown and Dreamcatcher Win 2005 Pavo Cup Finals
Florencio and Sandreo Win the 2004 Pavo Cup Finals
Special D and Robin Hood, 2003 Pavo Cup Winners
Rubels and Paster, 2001 Pavo Cup Champions
Natcho and Osmium Wins 2000 Pavo Cup Finals
Broere Stallions Dominate 1999 Pavo Cup Finals
Lucky Times and Mariena Win 1998 Pavo Cup Finals