American Dressage News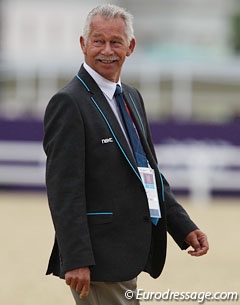 The United States Dressage Federation has invited FEI Dressage Judge General Stephen Clarke to headline the 2015 USDF FEI-Level Trainers Conference.  The conference will be held January 19-20, 2015 at Mary Anne McPhail's High Meadow Farm in Loxahatchee, Florida.
Elected as the FEI Dressage Judge General in 2013, Stephen Clarke is a well-spoken, well-respected clinician worldwide.  As a rider, he has competed successfully and was the reserve rider for the 1988 Olympic Games in Seoul. Stephen has earned a reputation for combining his 'quick eye' for technical detail and his ability to form balanced and consistent assessments; solving issues with practical effective exercises.
Kathie Robertson, Education Department Manager, stated, "USDF has had many requests to bring Stephen Clarke to the US for this conference, and couldn't be happier he will be joining us this year."
Photo © Astrid Appels
Related Links
Stephen Clarke Receives BEF Medal of Honour
Officials Announced For 2015 World Cup Dressage Finals in Las Vegas
Stephen Clarke Appointed President of Ground Jury for 2012 Olympic Games