What's Happening in the Dressage World?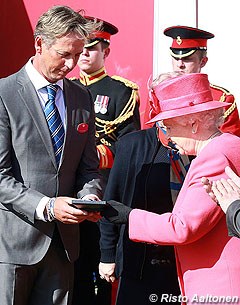 Carl Hester joined an elite band of equestrian names when he was presented with the prestigious British Horse Society Queen's Award for Equestrianism from Her Majesty The Queen at Royal Windsor Horse Show on Saturday 16 May 2015.
The Award, which is made on the recommendation of the Trustees of The British Horse Society, is 'For Outstanding Services to Equestrianism'.
As the most successful British dressage rider in history, Carl's achievements speak for themselves. However, his contribution to the sport, and to equestrianism as a whole, goes far deeper than his many titles and medals.
Carl is a wonderful ambassador for horse sport, bringing an enthusiasm and accessibility to dressage that has undoubtedly helped to widen its appeal. He continues to promote the very best standards of welfare, horse care and training and, above all else, helps an ever-increasing audience to appreciate the joy that horses bring.
Quite simply, British dressage would not have enjoyed the same level of success on the international stage without Carl's expertise, knowledge and guidance. But most of all, it is his generous nature that the panel felt marked him out as an exceptional sportsman and a most deserving recipient of the Queen's Award.
On receiving his award, Carl said: "Working with horses is my life. It is an amazing privilege to receive this recognition for doing something I love… and to receive this award from The Queen is incredibly special."
The Chairman of The British Horse Society, Claire Aldridge, accompanied Carl to the presentation. Commenting on the award she said: "We are delighted to be able to bestow this honour to Carl on behalf of Her Majesty The Queen. There could be no greater recipient for this award than Carl, who has dedicated so much of his life to his sport. Not only has he made his country so proud with his own achievements, but he has so generously put such passion into developing the success of others – all the time keeping the welfare of the horse at heart."
Carl was nominated for the award by The British Horse Society and British Dressage and was unanimously voted by the selection panel and BHS Trustees as the worthy winner.  Other dressage recipents include Jane Goldsmith, Stephen Clarke and Jennie Loriston Clarke.
Jason Brautigam, Chief Executive of British Dressage, said that Carl was one of those individuals who transcended the sport. "Carl's role within the sport goes far beyond being an ambassador and mentor. He has fostered a team spirit within the dressage community that hasn't previously existed. Carl's contribution has been immense – his commitment is selfless, as is his generosity of spirit. He is not just concerned with his personal results but about the long term development of the sport."
Photo © Risto Aaltonen
Related Links
Hester and Tomlinson Receive MBE Medal at Windsor Castle
Carl Hester Honoured in Guernsey Hall of Fame
Charlotte Dujardin to Receive Order of British Empire medal from Queen Elizabeth II