Swiss Dressage News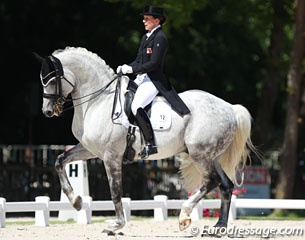 The dressage selecion committee of the Swiss Equestrian Federation has announced the team that will represent Switzerland at the 2015 European Dressage Championships in Aachen, Germany on 12 - 16 August 2015.
With two official selection trials in Compiegne and Hagen, the Swiss elite Grand Prix riders tried for a hotly contested team spot this spring show season.
Four team riders and three reserves have been appointed for Aachen. Two of them are experienced team riders, two are new comers on the team. One of them has been a team member before but is riding a new horse.
The Swiss team includes:
Anna-Mengia Aerne-Caliezi - Raffaelo va Bene
Caroline Häcki - Rigoletto Royal
Marcela Krinke Susmelj -  Smeyers Molberg
Birgit Wientzek Pläge - For Compliment
The reserve riders are:
Antonella Joannou - Dandy de la Roche
Joséphine Rosen - Crescendo VII
Patricia Schärli - Cappucino XIV
Photo © Astrid Appels
Related Links
Swiss Riders Go into Second Team Selection Trial at 2015 CDIO Hagen
Swiss Riders for First EC Selection Trial at 2015 CDI Compiegne