2015 Swiss Dressage Championships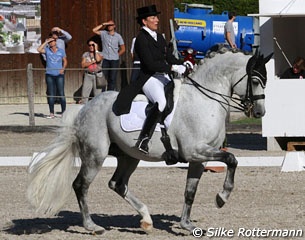 Pony rider Carl Lennart Korsch, junior rider Naomi Winnewisser, young and Under 25 rider Estelle Wettstein and Grand Prix rider Anna-Mengia Aerne-Caliezi were the winners of the 2015 Swiss Dressage Championships on 11 - 13 September 2015. The Riding Club of Tösstal organised these superb national championships in the small village of Turbenthal.Spoilt by late summer sunshine and temperatures significantly over 20 degree the new Swiss champions in all age divisions were crowned near Zürich.
Swiss dressage in general seems to be slightly on the rise after many years of struggling to keep in touch with the internationally successful nations. With the Swiss team having won the newly created European Children Championships in Vidauban this year and the other age divisions achieving partly remarkable results at international shows, the seniors were also able to set their mark with a few high international placings, even though the hoped for Olympic qualification was not achieved at the Europeans in Aachen.
The 2015 Swiss Grand Prix Championships in Turbenthal were contested with the Grand Prix and Kur deciding the medals. The division revealed that it is still a rarity for Swiss combinations to score over 70% in a Grand Prix. With the best Swiss rider of the past years, Marcela Krinke,  absent and elite team member Josephine Rosen not starting either, there was only one horse which managed to get more than 70% from the judges' panel, which included former O-judge Dr. Dieter Schüle from Germany and France's Isabelle Judet.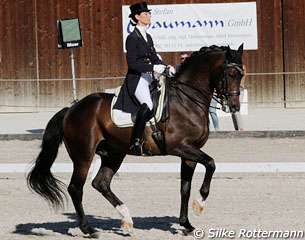 Last year the monumental Bavarian stallion Raffaelo va Bene (by Royal Diamond) was more or less a surprise winner of the Swiss dressage championships. This year the dapple grey of Anna-Mengia Aerne, who trains with Silvia Ikle, repeated his win as favourite for the title. With 75,32% the pair won with a more than 5%-lead ahead of Antonella Joannou and Dandy de la Roche CH (by Dressage Royal). Raffaelo showed a relaxed Grand Prix with almost no flaws and significant highlights in the piaffe and passage tour in which he really sits and carries himself well.
The comparatively petite chestnut gelding Dandy de la Roche CH placed second. The Swiss bred, who had a successful international season so far and almost made the Swiss team this year, did not have his best day with mistakes in the flying changes and fairly timid trot work, but he finished his test with a good relaxed halt.
Third place in the Grand Prix went to Swiss team member Birgit Wientzek-Pläge and the licensed Rhinelander stallion For Compliment (by Fidermark) who scored 68,48%. Even though the pair shows an exemplary silhouette with soft contact and they are an eye-catching pair with his elegant rider, the 11-year-old needs to be a bit stronger from behind.
Melanie Hofmann's fourth place in the Grand Prix (68.28%) was a surprise. Hofmann was a Swiss team member on Cazzago at the 2014 WEG and she retired the gelding at Turbenthal last year. Now the blonde had to rely on her other Grand Prix-horse, Solid Brown. The 13-year-old Württemberger by Sir Oldenburg rose to the occasion and beat multiple Swiss team member Caroline Häcki on her Swiss warmblood Rigoletto Royal CH, who landed fifth place.
Out of eleven starters in the Grand Prix seven scored between 66 and 68%.
As usual the averages went up in the freestyle which took place on Sunday afternoon. Six out of ten starters managed to get a result over 70%. Anna-Mengia Aerne again reigned supreme with 80.25%, winning her second Swiss championships title ahead of Birgit Wientzek-Pläge and Antonella Joannou.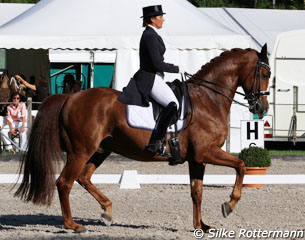 The U 25-riders featured a field of seven starters with Simona Aeberhard riding two horses. Not surprisingly Estelle Wettstein won gold with her super talented Hanoverian Friedrich der Große, a horse to watch for the future if he continues to develop like this. Jessica Neuhauser received the silver medal aboard Ferrero Kiss ahead of Andrina Suter and Axiom.
In the Young Riders' division Estelle Wettstein caught her second gold medal on Darlington C, ahead of Christina König on Saturnus. Bronze went to Sharon Höltschi on Daniolo. In the juniors' division Noami Winnewisser and Fürst Rousseau stayed more than six percent ahead of silver medalists Elena Krattiger and Ramia Lox. Bronze went to Ramona Schmid with Honeur.
Whereas the Swiss pony division was in poor condition twenty years ago, this year seven starters fought for gold at FEI Pony level. It was a close decision between the winner Carl-Lennart Korsch on Dack von Wittgenstein and Victoria Huet on the experienced Day of Diva. In the end Korsch won 0,07% ahead of Huet with new comers Nerine Niessen and Douglas getting the bronze medal.
Text and Photos © Silke Rottermann
Results - 2015 Swiss Dressage Championships
Pony Riders
1. Carl-Lennart Korsch - Dack von Wittgenstein - 68.97% -71.54% - 71.80% --- 212.31%
2. Victoria Huet - Equestricons Day of Diva - 69.54% - 69.22% - 73.48% --- 212.24%
3. Nerine Niessen - Douglass - 65.77% - 67.95% - 71.40% --- 205.12%
4. Renée Stadler - Dolce Vita IV - 65.00% - 66.56% - 67.20% ---- 198.76%
5. Katarina Scheufele - Now and Forever Feivel - 65.36% - 65.46% - 66.70% --- 197.52%
6. Isabella Riedi - Pins de Soulac - 65.38% - 63.73% - 67.45% --- 196.56%
7. Inès Fumagalli - Brouwershaven's Joost - 63.23% - 63.46% - 67.73% --- 194.42%
Junior Riders
1. Naomi Winnewisser - Fuerst Rousseau - 71.76% - 70.53% - 75.53% --- 217.82%
2. Elena Krattiger - Ramia Lox - 67.81% - 69.21% - 74.45% --- 211.47%
3. Ramona Schmid - Honeur - 68.51% - 68.42% - 72.85% --- 209.78%
4. Léonie Guerra - Mocca IV - 66.38% - 69.26% - 71.95% --- 207.59%
5. Stephanie Hartmann - Darek CH - 67.51% - 66.82% - 68.58% --- 202.91%
6. Lars Bürgler - Remember Passion - 61.49% - 63.47% - 64.18% --- 189.14%
Young Riders
1. Estelle Wettstein - Darlington C - 68.26% - 69.16% - 75.05% --- 212.47%
2. Christina König - Saturnus - 66.95% - 69.97% - 72.40% --- 209.32%
3. Sharon Höltschi - Daniolo - 65.18% - 67.84% - 67.43% --- 200.45%
4. Bigna Ladina Lehmann - Ronaldino - 65.71% - 66.16% - 65.90% --- 197.77%
5. Tamara-Lucia Roos - Amaretto - 56.76% - 62.50% - 64.53% --- 183.79%
Under 25 Riders
1. Estelle Wettstein - Friedrich der Grosse - 69.66% - 72.23% --- 141.89%
2. Jessica Neuhauser - Ferrero Kiss - 67.50% - 68.09% --- 135.59%
3. Andrina Suter - Axiom - 65.71% - 66.23% --- 131.94%
4. Anthea Hartmann - Rubinario - 65.89% - 65.88% --- 131.77%
5. Simona Aeberhard - Private Dancer - 62.87% - 62.02% --- 124.89%
6. Sabrina Ackermann - Famous Boy - 63.89% - 58.05% --- 121.94%
7. Lia Garzoni - Calypso van het Gorhof - 59.55% - 55.72% --- 115.27%
Grand Prix Riders
1. Anna-Mengia Aerne-Caliezi - Raffaelo va Bene - 75.32% - 80.35% --- 155.67%
2. Birgit Wientzek Pläge - For Compliment - 68.48% -76.70% --- 145.18%
3. Antonella Joannou - Dandy de la Roche CMF CH - 69.76% - 75.25% --- 145.01%
4. Alexandra Zurbrügg - Get Time - 67.50% - 73.60% --- 141.10%
5. Caroline Häcki - Rigoletto Royal CH - 68.18% - 71.33% --- 139.51%
6. Melanie Hofmann - Solid Brown - 68.28% - 70.75% --- 139.03%
7. Patricia Schärli - Cappucino XIV - 66.34% - 69.35% --- 135.69%
8. Gilles Ngovan - Dream of Night Fluswis CH - 66.80% - 68.65% --- 135.45%
9. Markus Graf - Sueno II - 64.64% - 69.68% --- 134.32%
10. Sina Waldmeier - Kavarell - 63.00% - 62.33% --- 125.33%
Related Links
Winnewisser, Wettstein, Neuhauser, Aerne-Caliezi Win 2014 Swiss Dressage Championships
Huet, Winnewisser, Wettstein and Krinke-Susmelj Win at 2013 Swiss Dressage Championships
Wettstein, Lehmann, Krinke-Susmelj Win 2012 Swiss Dressage Championships
Surprise, Surprise: Markus Graf is the 2011 Swiss Dressage Champion
Corinth Did It Again at the 2010 Swiss Dressage Championships
Veronika Marthaler, 2007 Swiss Dressage Champion
Widmer, Reutimann and Wettstein, 2006 Swiss Dressage Championships
Dressage in the Third Generation: Antonella and Léana Joannou
Birgit and Christian Plage, Team Work at Its Best