Trakehner Breeding News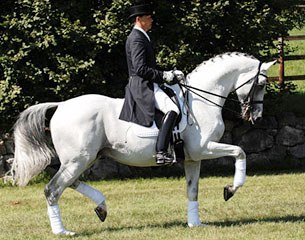 Trakehner breeding stallion Silvermoon has passed away at age 25 during his daily turnout in the field at the yard of his last owners, Ilonka Danowski and Frank Martens-Bruns in Dierstorf, Germany.
Silvermoon was bred by Christoph Hördemann and was by Kostolany out of Suleiken (by Mahagoni x Maharadscha x Frohsinn).
He was licensed at the 1993 Trakehner Stallion licensing in Neumunster, Germany and approved for Oldenburg in 2000 and for Bavaria in 2006. He did his stallion performance test in Medingen in 1994 and scored 101.34 points for dressage (25th place) and 89.81 points for show jumping (36th place) ranking him overall 35th out of 53 participating stallions.
Under Matthias Kempkes the grey stallion competed from 2001 till 20013 moving from L-level to S-level. He competed at only three shows in his entire career, his last being a regional event in Obereichingen in June 2003.
Silvermoon was only sparsely used as a breeding stallion standing at Gestut Hörstein and Gestut Ammerland. He sired 1 licensed son (Cadeau, Trakehner Stallion of the Year 2015) and 4 state premium mares. Only 29 offspring are registered as sport horse in Germany, two of them competed at S-level (Klara, Night Moon). In Denmark and U.S.A. Lars Petersen competed (Dansko's) Success at international Grand Prix level.
For several years Silvermoon also stood at stud at Blue Hors in Denmark, where his most famous competition offspring was produced. He sired 211 offspring registered in Denmark. His most famous get is without a doubt Blue Hors Matine, who was a shooting star in 2006 under Andreas Helgstrand, winning the Danish Championships and silver and bronze at the 2006 World Equestrian Games. Her career lasted not very long. In 2008 it ended due to injuries.
Related Links
Cadeau and Kasparow Proclaimed Trakehner Elite Stallions
Kostolany Passed Away
Blue Hors Matine Died Unexpectedly
Struggle for Fitness is Over, Blue Hors Matine to Become Brood Mare
Blue Hors Matine Fails First Vet Check in Las Vegas
Silvermoons Mariechen Sold to Alexandra Barbancon