Australian Dressage News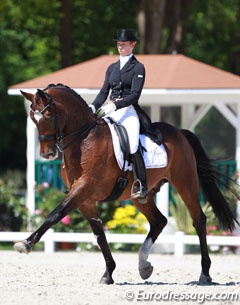 Australian A-team rider Briana Burgess has retired her number one Grand Prix horse La Scala, an 18-year old Rhinelander gelding by Lancer II x Rembrandt.
The qualities of La Scala were first recognized by Ullrich Kasselmann who then sold the horse as a 10-year old to German Grand Prix rider Natalie Stickling Morzynski. In 2011 the gelding came under saddle of Finnish Henri Ruoste who showed him internationally in 2012 at CDI's in Vidauban, Saumur and Wiesbaden.
In the autumn of 2013 La Scala sold to Australian Briana Burgess, who was looking for a competitive Grand Prix horse.
Burgess and La Scala made their CDI show debut in December 2013 at the Roosendaal Indoor competition and immediately scored 70% in the Grand Prix, making her a very strong Australian team contender. They continued their success tour in 2014 with starts in Drachten, Vidauban, Hagen, Munich, Fritzens and Deauville.
Burgess' strong performances caught the eye of the Australian selectors for 2014 World Equestrian Games' team representation, but the pair failed to show up at the final selection trial in Compiegne due to fitness issues and were not picked for the team. Briana filed an appeal, which caused much upset on the Australian dressage scene. The German based Australian, however, won the case and earned her spot on the team, forcing Maree Tomkinson to lose her place. Right before the 2014 WEG in Caen, France, La Scala was not fit enough to compete and Burgess had to withdraw from participation. Tomkinson stepped in last minute as team alternate and represented her country in Caen.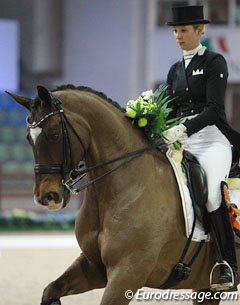 Briana and La Scala returned to the show ring in March 2015 and competed at four more internationals that year; in Vidauban, Hagen, Munich, and Compiegne. Their last show was the 2016 CDI Lier at the beginning of March, where the pair first retired in the Grand Prix, but then achieved 68.320% in a second Grand Prix class and 70.625% in the Kur to Music.
"Three weeks ago I decided to retire my la Scala from his competitive career which also means no Olympic contention for this year," Burgess explained. "We have had three amazing years together and a great partnership, none of it possible without super trainer Patrik Kittel - a huge thank you and also to my beautiful parents who have been the best supporters.  La Scala has had an incredible journey in life traveling around the world, from carriage horse to GP dressage horse, now causing daily chaos is the field and enjoying a well deserved retirement."
Photos © Astrid Appels
Related Links
Eurodressage Photo Database: La Scala
Briana Burgess and La Scala Join Australian Elite Dressage Squad
Burgess Files Appeal Against Australian WEG Team Selection
Burgess Wins Appeal, to Replace Tomkinson on Australian WEG Team if La Scala Passes Vet Check