2016 Swiss Dressage Championships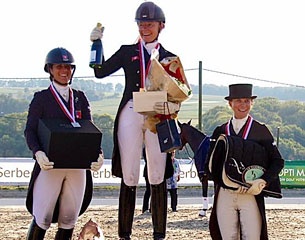 Pony rider Katarina Scheufele, junior rider Léonie Guerra, young rider Naomi Winnewisser, Under 25 rider Andrina Suter and senior Grand Prix rider Marcela Krinke-Susmelj captured the gold medal and national title in their division at the 2016 Swiss Dressage Championships held at Ecuries de la Chaumaz in Russin, Switzerland on 23 - 25 September 2016.
Seven pony riders contested the FEI pony division and Katarina Scheufele topped the board with the 15-year old Westfalian bred buckskin Now and Forever Feivel (by Now or never de Montmain x Millant) scoring an average of 73.333%. She won all three rounds with 71.821%, 73.122% and 75.025% The silver medal went to Renée Stadler on the 14-year old French bred German riding pony Dolce Vita (by Valido) who scored an average of 69.700% after receiving 66.974% in the team test, 70.00% in the individual and 72.050% in the kur to music. Nerine Niessen and the 11-year old German bred Douglass (by Don't Worry x Derby) earned the bronze with an average of 67.692%. She was consistently third with 66.359%, 65.800% and 68.200%.
Evelen junior riders gathered at the Nationals to vie for the title. Léonie Guerra and the 12-year old Danish warmblood Atnon (by De Noir x Akinos) reigned supreme with an average of 73.357% after winning all three rounds. She scored 71.324% in the team test, 72.684% in the individual test and 75.875% in the Kur. Guerra had also brough along her second ride Mocca and did extremely well with him, but only the top scoring horse counts for the ranking for the Championships. The silver medal Charlotta Rogerson on the 9-year old bay Hanoverian gelding Dylan (by Dimaggio x Lanthan) who scored an average of 71.157% with 70.189%, 70.158% and 73.000%. Ramona Schmid has a new junior rider's mount in Kelly Sue, a 7-year old Oldenburg bred mare by Dimaggio x Royal Dance, and earned the bronze medal with an average of 68.148%. The pair scored 66.973%, 67.763% and 69.600%.
Five combinations were in the running for the Young Rider championships, which were won by experienced team rider Naomi Winnewisser on the 11-year old Furst Rousseau (by Rousseau x Weltmeyer). The pair averaged 72.862% after scoring winning marks of 70.895%, 72.368% and 75.200%. Winnewisser also saddled her new, second ride, the 15-year old Oldenburg Seabiscuit (by Sandro Hit x Chromatic xx), but only Furst Rousseau's results counted for the ranking. Estelle Wettstein and the 8-year old Oldenburg mare West Side Story (by San Amour x Donnerhall) were the reserve champions with 71.405%. The pair scored consistently throughout the wekend with 702.89% 70.579% and 73.250%. Elena Krattiger and the 11-year old Danish bred mare Ramia Lox (by Romanov x Victory) were the bronze medal getters with 70.164%. This duo scored 68.474%, 69.895% and 72.025%.
Andrina Suter and the Swedish warmblood Axiom (by D-Day x Krevad) headed the field in the Under 25 division, which featured just three pairs. She won gold with 69.132% on average, after achieving 65.105% in the Intermediaire II, 69.628% in the Short Grand Prix and 72.425% in the Kur to Music.  Anthea Hartmann and the 15-year old Westfalian Rubinario (by Rubin Royal x Ramires) won the silver with 67.736 after placing second in all three rounds with 65.395%, 67.791% and 69.900%. Tamara Lucia Roos and the 12-year old Baden Wurttemberger bred Amaretto XII (by Acordelli x Quick Step) won bronze with 67.083%. This duo scored a winning 68.053% in the Inter II but dropped to third place in the two further rounds with 64.465% and 68.975%.
At elite Grand Prix level the senior riders battled it out for the title in two rounds, the Grand Prix and Kur to Music. Eleven duo's travelled to Russin for the Nationals but Switzerland's long-time number one, Marcela Krinke-Susmelj and Irene Meyers' Danish bred Molberg (by Michellino), continued to wield the axe of power and felt hardly any competition. The duo won the Grand Prix with 73.180% and the kur to music with 77.275% to average a golden total of 75.000%. Antonella Joannou and the 11-year old Swiss bred Dandy de la Roche (by Dressage Royal) earned silver with an average of 72.244%. They scored 70.560% and 74.350%. Charlotte Lenherr and the 12-year old Swiss bred Darko of De Niro (by De Niro x Gagneur) got the bronze with 68.500% and 71.750% to average 69.644%.
The 2016 Swiss Grand Prix Championships were marked by the absences of some of the country's top riders who contested the Nationals iin 2015. Last year's winner Anna Mengia Aerne-Caliezi has not been out internationally since October 2015 and was also absent to defend her title. Swiss team riders Birgit Wientzek Plage (For Compliment) and Caroline Hacki (Rigoletto Royal) as well as Melanie Hofmann and Patricia Schärli were not there either.
Results - 2016 Swiss Dressage Championships - Russin

Pony Riders
1. Katarina Scheufele - Now and Forever Feivel - 73.333
2. Renée Stadler - Dolce Vita - 69.700
3. Nerine Niessen - Douglass - 67.692
4. Anna Paula Burger - Arts Doree - 64.525
5. Jashila Dahinden - Aragon - 63.650
6. Alica Gianotti - Don't Hurry - 63.300
7. Noemi Zindel - Dior C - 63.183
Junior Riders
1. Léonie Guerra - Atnon - 73.357
2. Charlotte Rogerson - Dylan - 71.157
3. Ramona Schmid - Kelly Sue - 68.148
4. Meilin Ngovan - Don Paulo - 68.070
5. Lars Burgler - Remember Passion - 67.287
6. Jhelisa Burgin - Barabas - 66.052
7. Charlotte Buyssens - Ronin - 64.843%
8. Jorina Miehling - Rising Star - 62.704
9. Carl Lennart Korsch - Dias Desperados ST - 61.930
10. Isabelle Riedi - Hero B - 57.539
11. Giulia dell'Acqua - Windspiel - 56.800
Young Riders
1. Naomi Winnewisser - Furst Rousseau - 72.862
2. Estelle Wettstein - West Side Story - 71.405
3. Elena Krattiger - Ramia Lox - 70.164
4. Stephanie Hartmann - Darek - 67.638
5. Jessica Burnier - Quinta's Erbe - 62.966
Under 25
1. Andrina Suter - Axiom - 69.132
2. Anthea Hartmann - Rubinario - 67.736
3. Tamara Lucia Roos - Amaretto - 67.083
Grand Prix
1.  Marcela Krinke Susmelj - Smeyers Molberg - 75.000
2. Antonella Joannou - Dandy de la Roche - 72.244
3. Charlotte Lenherr - Darko of De Niro - 69.644
4. Gilles Ngovan - Dream of Night Fluswiss - 69.322
5. Elena Fernandez - Sueno - 69.211
6. Philine von Bremen - Artemis - 68.489
7. Alexandra Zurbrugg - Get Time - 67.622
8. Josephine Rosen - Infinio CE - 67.578
9. Barbara Bertschinger - Rubin Cortes - 66.967
10. Corinne Selebam Alt - Lord Sinclair III - 66.400
11. Fanny Lerpiniere - Viena II - 63.044
Related Links
Korsch, Winnewisser, Wettstein, Aerne-Caliezi Win 2015 Swiss Dressage Championships
Winnewisser, Wettstein, Neuhauser, Aerne-Caliezi Win 2014 Swiss Dressage Championships
Huet, Winnewisser, Wettstein and Krinke-Susmelj Win at 2013 Swiss Dressage Championships
Wettstein, Lehmann, Krinke-Susmelj Win 2012 Swiss Dressage Championships
Surprise, Surprise: Markus Graf is the 2011 Swiss Dressage Champion
Corinth Did It Again at the 2010 Swiss Dressage Championships
Veronika Marthaler, 2007 Swiss Dressage Champion
Widmer, Reutimann and Wettstein, 2006 Swiss Dressage Championships