American Dressage News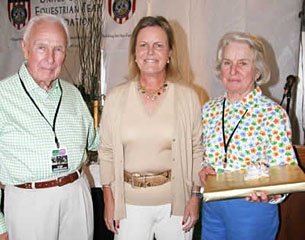 Parry Thomas, a long-time supporter of American Olympian and World Cup winner Debbie McDonald, passed away on Friday 26 August 2016 at the age of 95.
Parry Thomas was not simply the sharp business mastermind that revolutionized the city of Las Vegas, Nev. The equestrian community knew him as the passionate owner whose love of horses helped inspire and impact the sport of dressage. Surrounded by his supportive family, Thomas passed away peacefully on 26 August 2016 at his cherished River Grove Farm in Hailey, Idaho.
As a business man Thomas did more than any other person to legitimize businesses for Nevada casinos, is dead. He loaned money to expand casinos  and enabled Howard Hughes, then regarded as America's most successful businessman, to purchase Nevada properties, enhancing the attractiveness of Nevada investments to others. And he got laws changed to allow publicly held corporations to invest in casinos, ushering in the era of mega-resorts and ushering out of mob control.
To the dressage world, no one could have predicted the success that would significantly leave a lasting mark on U.S. dressage when Thomas opened River Grove Farm, except him. This man excelled at everything his mind devised. As a way to give back to his wife, Peggy, who tirelessly supported Thomas during his career, he dedicated his retirement to Peggy and her love of horses. Of course, Thomas could not idly sit by. He, too, immersed himself in horses. From purchasing, training, and showing, Thomas wanted to learn everything about these joyous animals from the ground up. He dreamed of having a horse in the Olympic Games someday.
Like the smart business man he was, he surrounded himself with those who believed in his vision. He worked with his trainer, Bob McDonald, on developing young horses. Similar to his wife, his life became all about horses, and his passion and dedication to the sport paid off. McDonald's wife, Debbie, partnered with Thomas' 1991 Hanoverian mare, Brentina, to win Team and Individual Gold medals at the 1999 Pan American Games. They also earned a Team Silver medal at the 2002 World Equestrian Games. In 2003, McDonald became the first American to win the World Cup Final riding Brentina. Then in 2004, Thomas finally saw his Olympic dream become reality when McDonald and Brentina earned a spot on the Athens Olympic Dressage Team, where they won a Team Bronze medal. They followed that up with a Team Bronze in the 2006 FEI World Equestrian Games and an appearance in the 2008 Beijing Olympic Games.
"He was a man who was so generous, believed in people, and changed lives. He took a chance on a young girl and changed her life. I owe who I am today, and the life I have led, to Parry," reflected Debbie McDonald. "There will never be a day I will not think of him, especially as I teach or ride. He was my biggest fan and my hero. Rest in peace, Parry, until we meet again!"
Along with his wife, Thomas gave back to the sport by supporting the Young Adult 'Brentina Cup' program beginning in 2006. Named after the legendary mare, the United States Equestrian Federation (USEF) developed the Young Adult 'Brentina Cup' program to assist and encourage U.S. Young Riders, ages 16 to 25, in making the transition to Senior Grand Prix competition.
Many owners work endlessly to see one horse get to the Olympics; Thomas had two. While Brentina was Thomas' most accomplished horse, a young Oldenburg gelding, Wizard, was waiting his time. In 2008, Debbie McDonald's protégée, Adrienne Lyle, rode Wizard to victory in the USEF Young Adult 'Brentina Cup' National Championship. Together they rose to the Grand Prix ranks and later landed a spot on the 2012 London Olympic Dressage Team.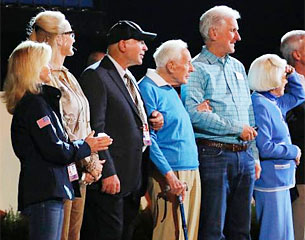 Dressage enthralled Thomas, so it was no surprise he watched a livestream of Lyle competing in the 2016 Markel/USEF Young & Developing Horse Dressage National Championships the day he passed. As luck had it, Lyle and Horizon, Betsy Juliano's 2007 Oldenburg mare, won the Developing Prix St. Georges division the following day, an intriguing tribute to a man who did so much for dressage.
Over the weekend, Lyle, McDonald, and several others gathered at River Grove Farm to pay tribute to the man who gave them so much. As McDonald battled moments of tears, she described the significant role he played in her life. In lasting honor, Lyle capped off the heartfelt memorial with a tribute ride on the stallion Salvino set to Frank Sinatra's song "I Did it My Way."
Thomas is survived by his wife, Peggy Chatterton Thomas, of Hailey, Idaho; four sons and one daughter: Peter M. Thomas (Nancy Paxman) of Las Vegas and Sun Valley; Roger P. Thomas (Arthur Libera) of Las Vegas; Dr. Steven Thomas (Karen Parker) of Las Vegas; Tom Thomas (Leslie Goodman) of Las Vegas; Jane Thomas Sturdivant (Peter Sturdivant) of Hailey, Idaho; 14 grandchildren; and nine great-grandchildren.
Related Links
Parry Thomas and Wizard Honoured at 2015 World Cup Finals
Jayne Thomas Receives "Dream" Present
What's Happening: January 2010 - Part 2
Brentina Retired
Verden Auction Horse Brentina
Debbie McDonald and Brentina, USET Athletes of the Month July 1999