Dutch Dressage News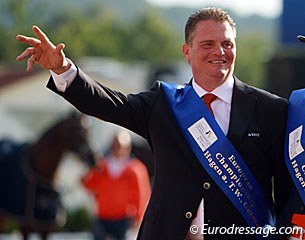 Johan Rockx' position as Dutch team trainer will not be extended. Rockx replaced Wim Ernes as ad interim team trainer and coached the Dutch U25 and Grand Prix team to their main championship event of the 2016.
Johan Rockx was initially appointed "assistant" team trainer to support the ill team trainer Wim Ernes, who has been battling cancer. In June the Dutch equestrian Federation announced that Rockx would be take up the full responsibility of team trainer as Ernes' health condition made him unavailable to guide the Dutch Grand Prix team to the 2016 Olympic Games in Rio.
Rockx coached the Dutch Under 25 team, which won team silver at the 2016 European Under 25 Championships at Hof Kasselmann in Hagen, Germany. The Dutch Grand Prix team stayed medalless in Rio, both in the team and individual competition.  The agreement between the KNHS and Rocks for the job ran until the Olympic Games.
Rockx expressed to the KNHS he had no more interest to do the job beyond Rio. In an interview with Dutch equestrian magazine De Hoefslag, Rockx said that he is focusing on developing his training yard at home. Johan is based in Essen, Belgium, but is building a new equestrian centre in Roosendaal, The Netherlands.
"We have a few talented young horses to train at home and of course I teach a lot," Rockx told De Hoefslag. "Establing the new business is a lot of fun, but also time consuming. Now I can spend my energy on that."
Maarten van der Heijden, the technical director for the Dutch equestrian federation, will managing some of the duties of the team trainer until a new coach has been found.
"He will arrange the respresentation to shows in agreement with the riders," said KNHS press officer Charlotte Gunnink. "Until 1 January 2017 all squad riders will get the opportunity to follow test-riding clinics with international judges."
Photo © Astrid Appels
Related Links
Johan Rockx Appointed Dutch Team Trainer Until Rio Olympics
Johan Rockx Appointed Assistant to Dutch Team Trainer Wim Ernes
Dutch Dressage Riders Gearing Up for Their Two 2016 Olympic Selection Events