Danish Dressage News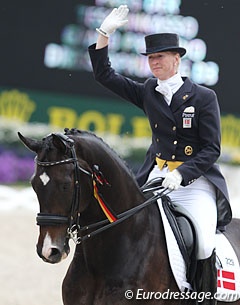 The Danish equestrian federation announced today that Nathalie zu Sayn-Wittgenstein has been appointed the new Danish team trainer, replacing Rudolf Zeilinger who resigned after 19 years on the job.
Zu Sayn-Wittgenstein is a highly experienced international Grand Prix rider who won team bronze at the 2008 Olympic Games in Hong Kong. She represented Denmark at seven European Championships, three World Championships and two Olympics. She has been trained for years by Kyra Kyrklund and Richard White.
"I'm really looking forward to taking up my task as team trainer," said Zu Sayn-Wittgenstein. "It's a very new and exciting challenge which means a lot to me. I hope that together with the riders we can make a strong team in the future and continue the good development which Danish Dressage has undergone the last few years."
Danish Grand Prix chef d'equipe Kimi Nielsen is equally excited and focused on the future. 
"It is important to us that the new team trainer does not only have training and riding skills at top level, but that there is also a strong support from the riders themselves. Our goal is to stay at the top in the worl and it requires work on the national team based on trust and respect. It is good to now that the riders support our choice for this coach."
One of the first tasks Nathalie will be understaking the next few weeks are house visits to the Danish A-team riders to talk to them about their ambitions, expectations about the collaboration, training and their horse stock. The first official A-team training session will take place at the beginning of February 2017. The goal of the year are the 2017 European Championships in Gothenborg.
The 41-year old Nathalie has been based at Castle Berleburg near Kassel, Germany, with the Danish royal family, but will be moving to Jessica Schwiebert's Helenenhof in Hamburg with her husband Alexander Johannsmann and children Konstantin and Louisa. 
Photo © Astrid Appels
Related Links
Rudolf Zeilinger Resigns as Danish Team Trainer
Rudolf Zelinger to Remain Danish Team Trainer until 2016