2017 Van Olst Sales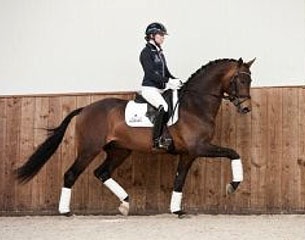 Dutch stallion owner Gert-Jan van Olst and his wife Anne van Olst, Olympic dressage team rider for Denmark, are proud to present the third Van Olst Sales on Fridat 14 April 2017. Every dressage enthusiast should mark this event on their calendar as Van Olst has carefully selected a group of talented dressage youngsters for their auction of quality levels for every budget.
The 2017 Van Olst Sales offers a collection of 32 stricly selected young, talented, mainly 3-year olds which have recently been saddle broken. These blooming youngsters are still in full development and improving each day with more training and under saddle experience. The collection also boasts several young licensed breeding stallions as well as few three top scoring IBOP mares.
"We were very strict in our selection and especially tried to get a group of extremely nice and good horses," said Gert-Jan. "Of course there are horses of different quality levels so the perfect match for every budget can found. We are sure that the new owners will be very happy with them."
Highlights in the collection include: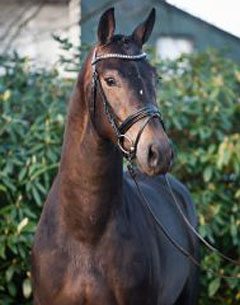 Catalog number 2: Extra (by Everdale x Havidoff)
Nomen est omen for the 3-year old NRPS licensed stallion Extra. This dancer moves with much expression and cadence and stands out with his high rideability and willingness to work. This licensed colt descends from a line which has already produced numerous sport horses and licensed stallions including the striking sire Dude (by Vivaldi). Video click here.
Catalog number 33: Jarina des Vallees (by Everdale x Sandro Hit)
The 3-year old KWPN bred Jarina des Vallees is an exceptionally elegant and appealing mare. This bay eye catcher excels with her very uphill and ground covering canter, for which she received a 9 in her IBOP mare test. With a total score of 81.5 she was part of the top scoring mares of her age. Beauty, good movements and an remarkably good pedigree is what you find in Jarina. Video click here.
Time Schedule
Horses can be viewed on appointment on 4 and 5 April 2017 as of 13h00.
The first presentation is on Tuesday 11 April 2017 at 19h30
The second presentation is right before the auction on Friday 14 April 2017 at 16h00.
The 2017 Van Olst Sales auction starts Friday 14 April 2017 at 19h30.
View the complete collection at: www.vanolsthorses.com/collectie-2017/