2017 World Championships for Young Dressage Horses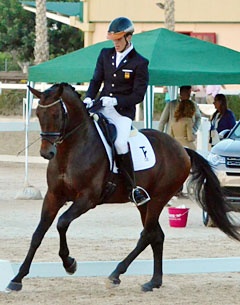 The Spanish equestrian federation and its national selection committee, in cooperation with ANCCE, has announced the Spanish horse-and-rider combinations that have been nominated to represent Spain at the 2017 World Young Horse Championships in Ermelo, The Netherlands on 3 - 6 August 2017.
The nominative entries for Ermelo were due 3 July 2017, the definitive entries need to be sent in by 17 July 2017. Last minute replacements can be entered until 1 August 2017.
The Spanish Federation announced its horses on 22 June two weeks after the 2017 Spanish Dressage Championships in Segovia, where national young horse classes were held as selection trial for Ermelo. 
The Spanish horses for Ermelo are:
5-year olds
Columbus TR (CDE) - Juan Manuel Acosta Ponce 
Poeta de Susaeta (PRE) - Guillermo García Ayala 
Reserve: Quinary (OLD) - Antonio Mena-Bernal González
6-year olds
San Pikado (OLD) - Claudio Castilla Ruiz 
Santos (OLD) - Cristóbal Belmonte Roldán 
Reserve: Beyonce (OLD) - Sergio Navarro Vicente
7-year olds
Forte MG (KWPN)-  Claudio Castilla Ruiz
Copernico (OLD) - Juan Matute Guimón
Reserve: Sarotti (OLD) - Marta Peña Montaner
Related Links
Eurodressage Coverage of the >2017 World Young Horse Championships 
Carrascosa Criticizes Spanish Selection Process for 2017 World Young Horse Championships