2017 Japanese Dressage Championships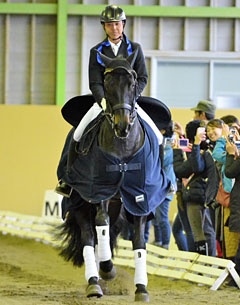 Toshiya Kawabata became the winner of the 2017 Japanese Dressage Championships which were held in Gotemba, Japan, on 10 - 12 November 2017. A first time participant at the Nationals, Kawabata won the Kur to Music which determined the winner of the 69th Japanese Dressage Championships.
The Japanese Grand Prix championships included three rounds: the Grand Prix which counted as qualifier for the Special for those combinations scoring over 58%. The ten highest scoring pairs with a combined score of the Grand Prix and Special, were eligible to move on to the Freestyle final. The Kur ranking determined the final ranking for the Championship. 
The 29-year old Toshiya Kawabata is a new comer on the scene. He did his first international at small tour level in Tokyo in 2016 aboard Masumi Shimoda's 17-year old Dutch warmblood Tetinger (by Munchhausen x Clavecimbel) which was previously shown by Shingo Hayashi. This year Kawabata also took over the ride on Hayashi's Grand Prix horse Ramses der II, a 19-year old Dutch warmblood by Gribaldi x Esteban. Ramses is owned by Tshunehiro Shimoda and was Hayashi's Olympic hope in 2016 but the pair did not make it on the team. Kawabate rode his first international at Grand Prix in Gotemba in October and placed second twice.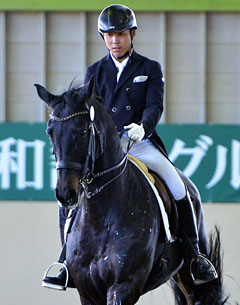 At the Nationals in Gotemba, of which the freestyle was judged by Mariko Tsukigawa, Junichi Hiraoka, Minako Furuoka, Kiyo Ogwawa, and Seiji Yoda, Kawabata scored his first significant Grand Prix title in his young career. The pair earned 68.850% and stayed well ahead of the silver medalist, 39-year old Ryuma Hieda on Bravissimo. They scored 67.275% for second place. The 35-year old Naoko Hieda and Akane Kuroki's 16-year old Oldenburg gelding Don Luka (by Don Larino x Cassini) earned bronze with a 67.200% kur score.
None of the riders on Japan's 2016 Olympic team competed at the Nationals this year (Yuko Kitai, Masanao Takahasi, Kiichi Haradi, Akane Kuroki, reserve Shingo Hayashi).
Photos © Japan Eq. Federation
Results - 2017 Japanese Grand Prix Championships - Gotemba
Kur to Music
1.  Toshiya Kawabata - Ramser der II -   68,850
2.  Ryuma Hieda - Bravissimo -  67,275
3.  Naoko Hieda - Don Luka -  67,200
4.  Yasushi Shimizu - Winnetou DDH -  66,500 
5v  Hiroshi Watanabe - Sol - 65,350
6.  Tomoko Nakamura - Tamara -  63,625 
7.  Yoko Nishijima - Luigi Colani -   61,900 
8.  Asuka Sakurai - Unesco -  61,650 
9.  Shoichi Ikegami - Wells Fargo -   61,225 
10.  Takanori Ban - Byron -  59,550 
Related Links
Kiichi Harada Wins 2015 Japanese Dressage Championship
Shingo Hayashi Wins 2014 Japanese Dressage Championships
Mieko Yagi Wins 11th Japanese Dressage Champion's Title
Yuko Kitai Claims 2012 Japanese Dressage Champion's Title