FEI World Dressage Challenge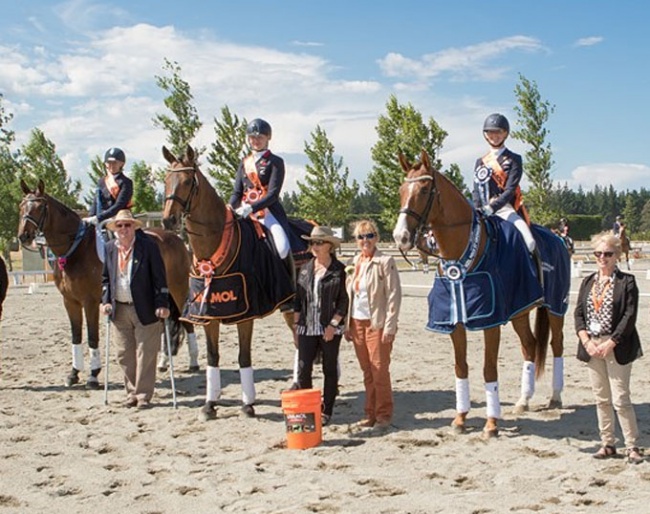 New Zealand's team and individual riders have notched up the narrowest of team wins and scored wins in three of the five divisions, plus a number of top ten finishes in the 2017 FEI World Dressage Challenge for Zone 8.
The FEI World Dressage Challenge is a global event that includes more than 50 countries divided into nine zones. It has been designed to create a 'bridge" between the National level and the first FEI level of International competition and is aimed at all Dressage riders with a dream goal of representing their country in international Dressage at the highest level and on home soil. The FEI World Challenge goes from preliminary level classes up to Prix St Georges-Intermediaire I.
Zone 8 comprises New Zealand, Australia, Hong Kong,South Africa and Chinese Tapei (2016 zone winners). Riders in Zone 8 compete at three levels: youth riders, Prix st Georges and Intermediaire I, except for the Hong Kong riders who contested classes at lower levels.
New Zealand's team included Lauren Haig (Westford Lanciano), Melissa Galloway (Windermere J"Obei W), Nicola Maley (Astek Galahad), and Millie Thompson (Rifesyde Prancer) and they scored a team total of 239.842 points to rank the highest in Zone 8. Australia, who had its World Dressage Challenge at the CDI-W Boneo, finished second with 239.132 points, followed by Taiwan (237.079 points), South Africa (235.816 pts), and Hong Kong (196.339 pts).
"It is nearly a decade since Australia participated in the Challenge so it was great to have New our closest international neighbours back in the mix as a measure of our own progress," said a spokesperson of the New Zealand equestrian federation. 
Individually Australian Jamie Mita and Westewind were the high scorers in the Intermediaire I which included 16 starters world wide. Mita scored 67.697% to place ahead of Australian Stephanie McDonald on Che de Jeu (67.237%).
New Zealand's Melissa Galloway was first in the Prix st Georges from 26 starters. Aboard Windermere Jobei W she scored 68.224% and edged out Australian Sara Price on Cheval de Luxe (67.434%).
New Zealand's Karolyn Norton and Larapinta Primadonna were first in a large field of 46 combination in the Senior II, while New Zealand's Diane Wallace was first in a massive 53 strong field in the Senior I. In the Youth Class, Australian Isabelle Luxmoore and Linus WK topped the board with 68.333% ahead of Australian based Jasmine Haynes on pony Steendiekds Champ of Glory (67.167%). 
Complete Results: Team - Individual
Related Links
Great Start for Australia's Inaugural FEI World Dressage Challenge at 2017 CDI-W Boneo
Philippines Win Zone 9 FEI World Dressage Challenge 2015
China Leads 2014 FEI World Dressage Challenge in Zone 9
Chilean Virginia Yarur and Team South Africa win 2012 Zone 1 FEI World Dressage Challenge