Great Britain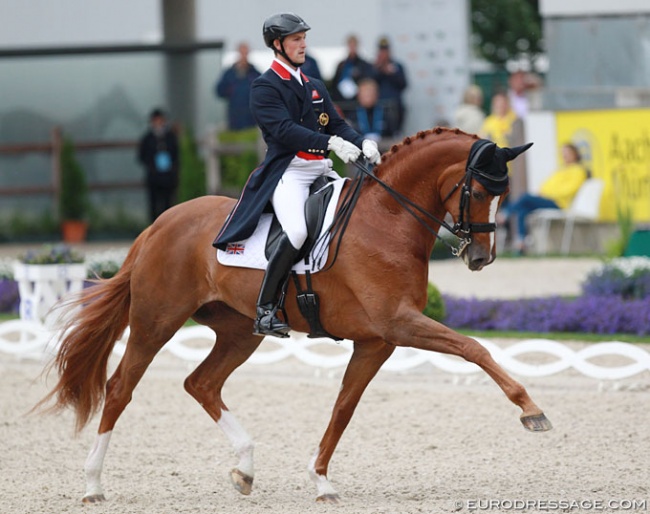 Michael Eilberg has announced the news that his double World Young Horse Champion mare Woodlander Farouche has been retired from competition sport and will become a broodmare. 
The 12-year old British Hanoverian mare Woodlander Farouche (by Furst Heinrich x Dimaggio) is bred by Lynn Crowden and owned by Eilberg in partnership with A. Walton. 
The mare won the 2011 and 2012 World Young Horse Championships in a spectacular way. She then disappeared from the scene to be trained to small tour level to return back in the CDI show ring in March 2015 at the CDI Barcelona. In 2016 Eilberg moved the mare up to Medium Tour level with winning starts at the two Valencia shows. He dropped her back to small tour level for the CDI Hartpury in July 2016. One week later the pair competed in the smal tour at the 2016 CDIO Aachen, winning both classes. It was their last show ever.
Woodlander Farouche has the most impressive, international show record ever. Although she did not compete very much, the mare has won every single class she was entered in, with exception of the Intermediaire A test in Valencia, in which she was retired. 
After an almost three year absence from the show ring, Eilberg has now revealed the decision to retire the mare from sport. Farouche sustained an injury in 2016 and has not been able to recover to show level fitness. 
"We are going to stop trying to bring Farouche back into work, and focus on embryos with her," Eilberg told Horse&Hound. "She had time off and we nursed it back to health, but the problem is that she seems unable to sustain harder work on it now. If I work her lightly she's OK, but the minute I step it up a notch she goes sore again,"
Farouche has already produced two foals via embryo transfer, Walk on the Wild Side and Wild Child, but she would not catch while she was in full work.
"When she's in work, she doesn't seem to want to be a mummy," said Michael. "I also felt she used to switch off a bit when we were doing embryo work with her, and wasn't as nice to ride — we always said we would stop with the embryos once she started the serious work. However, since she's been off we've done really well with embryos from her — we had a foal from her last year and have another on the way this year — so it makes sense to pursue that now."
In the interview with Horse&Hound, Eilberg leaves the door open for a come back but added that it will be difficult as she gets older.
Read more on Horse&Hound
Photos © Astrid Appels
Related Links
Eurodressage Photo Database: Woodlander Farouche
Photo Report: Eilberg and Farouche Win Prix St Georges at 2016 CDIO Aachen
Michael Eilberg and Woodlander Farouche Impress at 2015 BCN Dressage Tour
Michael Eilberg and Woodlander Farouche Make Prix St Georges Show Debut
Woodlander Farouche and Retro Hit win 2010 British Young Horse Championships
Woodlander Farouche and Dornroeschen to be Bred to Sezuan
Fantastic Farouche Does it Again in Verden
Woodlander Farouche on Her Way to Second World Young Horse Champion's Title
Rumour Control: Woodlander Farouche Not Sold
Woodlander Farouche Brings Magic to the Ring and Becomes 5-Year Old World Champion
Woodlander Farouche Blows Away All Competition in 5-Year Old WCYH Preliminary Test
British Bred Woodlander Farouche Dominates Young Horse Classes at 2011 CDI Vidauban