KWPN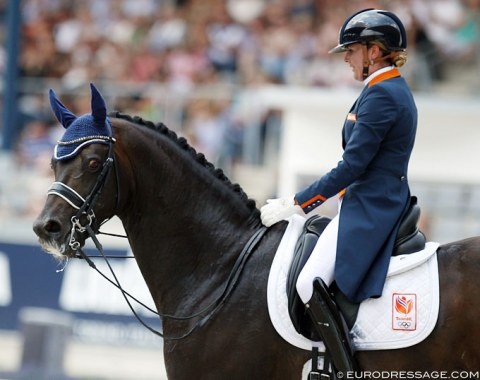 The internationally competed Grand Prix horse and KWPN licensed stallion Apache has indeed tested positive as a carrier of the Warmblood Fragile Foal Syndrome (WFFS).
Apache (by UB40 x Krack C) initially tested negative, but no less than four of his licensed sons (Jovian, Indian Rock, Arango, All You Want) were tested positive to WFFS which raised serious questions about the validity of Apache's WFFS test.
The KWPN society asked owner Ad Valk to resubmit samples for testing and they have now proven positive for the WFFS genetic defect. Positive stallions crossed to positive mares have a chance of 25% for abortion and stillborn foals. WFFS positive stallions bred to WFFS positive mares are also proven to be a more difficult match for conception. 
Apache was retested for WFFS based on a hair sample, while the initial test was carried out on an old DNA sample from a stored blood sample. The Van Haeringen laboratory confirmed that a human error has been made in Apache's WFFS test.
Van Haeringen has retested all samples of KWPN licensed and several non-KWPN bred but KWPN licensed stallions of which initially a blood sample had been used. Only Apache's test came back as different. The status of all other retested, active breeding stallions was confirmed negative.
Related Links
Third Apache Offspring Positive for WFFS, Apache Wrongly Tested?
Jovian and For Sure Test Positive as WFFS Carriers
Seven KWPN Licensed Dressage Stallions Positive to WFFS
Two Everdale Sons Test Positive to WFFS, Dutch Stallion Owners Take Action, Germany In Denial
Blue Hors Reports Three of Its Stallions as WFFS Carriers