2018 PSI Auction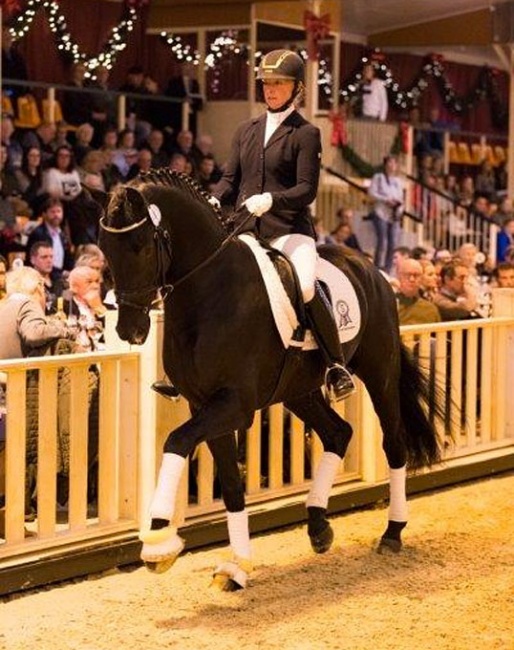 The show jumper Stakkariealla became the stunning price highlight of the 2018 PSI Auction held in Ankum, Germany, on Sunday 9 December 2018. 
For a whopping price of 2.4 million euro, the 6-year old chestnut Hanoverian mare Stakkariealla (by Stakkato x Chacco Blue) sold to the U.S.A.
 Thousands of thrilled spectators filed into the packed auction hall and watched the highly anticipated 39th Performance Sales International auction. Hosts Paul Schockemöhle and Ullrich Kasselmann succeeded once again in putting together a collection of unique diamonds, that were sold to clients from all around the world.  Even though the preparation was flawless, Ulli Kasselmann, as host, breeder, and seller, always feels the pressure: "These days you never know where things are going, and how the buyers will react, we have however found that the name P.S.I. carries great weight worldwide." 
Stakkariealla is the most expensive jumping horse ever sold in the 39-year history of the P.S.I. Auction, although dressage horse Poetin (by Sandro Hit x Brentano II) still holds the alltime record of 2.5 million euro at the 2003 edition.
The second most expensive horse was the 4-year old Oldenburg dressage stallion V-Plus (by Vivaldi x Furst Romancier) which sold for 1.2 million euro to American Leslie Malone of Harmony Sporthorses in Colorado. Susan Pape will train the horse.
"This is a stallion with extraordinary quality and exceptional character. His aura is magnified into everything and the buyers were fascinated by him," said Ulli Kasselmann knowingly about this once in a lifetime stallion.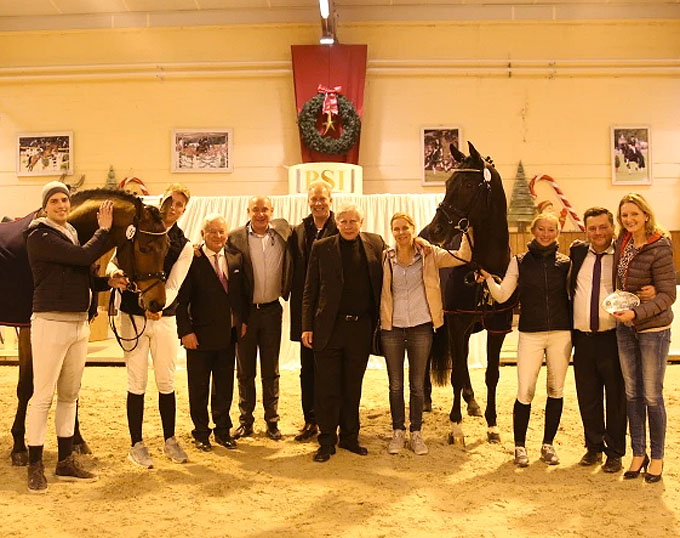 The third most expensive horse was show jumper Centolina Seconda, which sold for 850,000 euro.
The stunning Forza (by Furstenball x Sir Donnerhall) sold for 630,000 euro to RS2 Dressage in The Netherlands.
The Bundeschampion Bitcoin (by Bordeaux x Rubinstein) sold to a German sponsor for 470,000 euro who will keep the horse in training with Frederic Wandres at Hof Kasselmann.
Harmony Sporthorses also bought a second horse, Bocca di Bacco (by Bordeaux x Sandro Hit). Malone paid 450,000 euro for this one and Michael Klimke will get the ride on him.
Bormidou (by Bordeaux x Amidou) sold for 400,000 euro, while Evergreen (by Everdale x Don Davidoff) found a new owner for 380,000 euro. So Fantastic (by Sir Donnerhall x Furst Romancier) sold for 350,000 euro.
The average price for a dressage horse was 290,600 euro. The average price for a jumper was 399,000 euro. The dressage horses brought a total of 7.265.000 euro,  the show jumpers 9.975.000 euro turnover.
Related Links
Zum Gluck, Price Highlight of the 2017 PSI Auction
Ferrari, Price Highlight of the 2016 PSI Auction
Stalognia and Fasine, Price Highlights of the 2015 PSI Auction
SPH Dante Sells for Record Price of 2.8 Million at 2014 PSI Auction
Lannaro and Bluetooth, Million Euro Horses at the 2013 PSI Auction
Sa Coeur, Price Highlight of 2.3 Million Euro at 2012 PSI Auction
Der Designer Breaks One Million Euro Barrier at 2011 PSI Auction
Balsandra, Price Highlight of the 2010 PSI Auction
Diamonit, Price Highlight of the 2009 PSI Auction
St. Emilion, Doletto and Lawito, Price Highlights of the 2008 PSI Auction
Fine Time, Price Highlight of the 2007 PSI Auction
2006 PSI Auction Horses Sold for More Than 10 Million Euro
620,000 € for Price Highlight at the 2005 P.S.I. Auction
Santa Cruz, Dressage Price Highlight at the 2004 PSI Auction
Poetin Sold for World Record Price of 2,5 Million at 2003 P.S.I. Auction
Love Parade, Price Highlight of the 2001 PSI Auction 
Highest Price for Weltclassiker and H.S. Europa at 2000 PSI Auction