2019 New Zealand Youth Riders Championships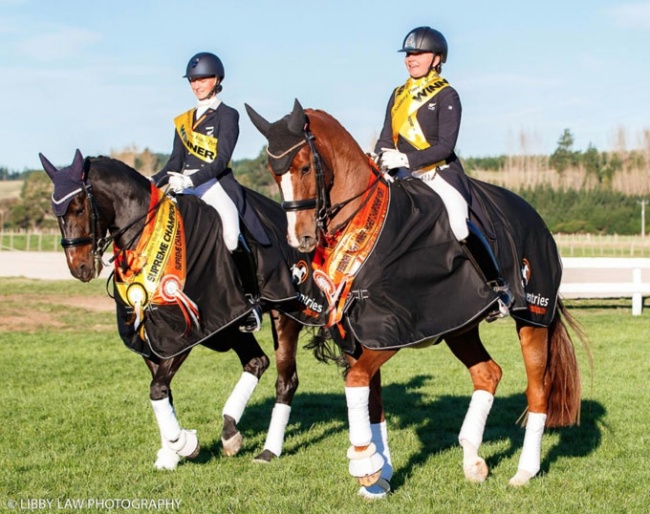 Young Rider Amy Sage and Under 25 Grand Prix rider Lucarne Dolley became the champions in their respective divisions at the 2019 New Zealand Youth Riders Championships held in Taupo, New Zealand, 12 - 14 April 2019. 
Taupo turned on a weekend of superb weather for the 25th anniversary of the Dressage NZ Under 25 Youth Rider Championships. Over 150 horses were entered across the two days of competition and there were some hotly contested classes. It was a pleasure to have Shirley Hyland – who brought her idea of a Young Riders event to fruition a quarter of a century ago – make the trip up from Gisborne celebrating the event with us.
An assortment of team competitions ran concurrently with the Pony and Young Rider championship classes. These included Area teams, North vs South Island teams and of course the trans-Tasman competition between NZ and the visiting Queensland team, which saw the Kiwis come out on top. The NZ contingent consisted of Amy Sage (L5, riding BL All By Chance, owned by Renee Etherington), Nicole Sweney (L5, riding Flute Noir) and Brina Carpenter (L4, riding Plutonium Lady). Team Queensland members were Holly Wickham (L5, riding Eton MVNZ, owned by Denise Rushbrook), Mackenzie Boundy (L4, riding Don Douglas CFH, owned by Rosie Richards), and Daisy Fielding (L4, riding Foxleigh Mr Darcy, owned by Margs Carline). There was a great depth and experience on our panel of judges which included List A (Australia) Anita Barton and Vittorio Barba (FEI3*) from the Philippines.
Five riders competed in the Young Riders Championship and 2018 HOYS winner Amy Sage also ended at the top of the board after rounds for the National Young Riders' Title. Aboard her 10-year old NZL warmblood mare RM All About Me (by Anamour x Witzbold) she was second in the team test with 68.162% behind Mihi Shepherd on Alcatraz. Coached by Vanessa Way, Amy went on to win the Kur to Music in which she surfaced at the top with 71.583% ahead of Shepherd, Mihi was born in the U.K. but moved to New Zealand when she was two years old.  She has been riding all her life. 
Three riders contested the Under 25 Grand Prix division and seasoned rider Lucarne Dolley was unbeatable on her 12-year old New Zealand bred Ardmore (by Anamour x Dynamit). She won the Short Grand Prix with 66.624% and posted a 65.375% in the freestyle. Her combined score earned her the national title. Dolley is also trained by Vanessa Way. Catherine West and her New Zealand bred Hanoverian x Thoroughbred cross Amici II (by Anamour x Magic of Sydney xx) were the runners-up. They received 63.761% and 64.500% from the panel of judges. 
"What a way to end a season," said a thrilled Dolley. "Still on a bit of a high as Ardmore tried his heart out for me this show, in what was both of ours first time attempting a Grand Prix! After a win in the musical yesterday, and then getting 66.6% in our GP test today, we came away with U25 National GP Champions
Photo © Libby Law
Results - New Zealand Young Rider and Under 25 Championship
Young Riders - Round 1 - Team test
1. Alcatraz - Mihi Shepherd - 68.676%
2. RM All About Me-  Amy Sage -  68.162%
3. Lord Louis - Brina Carpenter - 61.971%
4 Snapshot FE - Kerry Goldthorpe - 59.706%
5. Glamour Star - Irina Smith - 55.221%
Young Riders - Round 2 -  Kur to Music
1. RM All About Me - Amy Sage -  71.583
2. Alcatraz - Mihi Shepherd-  69.917
3. Lord Louis - Brina Carpenter - 68.417
4. Glamour Star - Irina Smith - 61.417
Under 25 - Round 1 - Short Grand Prix
1. Ardmore - Lucarne Dolley - 66.624%
2. Amici II - Catherine West -  63.761%
3. Busuto - Devon Raos - 61.838%
Under 25 - Kur to Music
Ardmore - Lucarne Dolley - 65.375
Amici II - Catherine West -   64.500
Busuto - Devon Raos -  63.160
Related Links
Amy Sage Wins 2019 New Zealand Horse of the Year Title for Young Riders
Gradowski, Sage, Galloway and Way Win at 2019 New Zealand Dressage Championship