2019 German Professional Dressage Riders Championship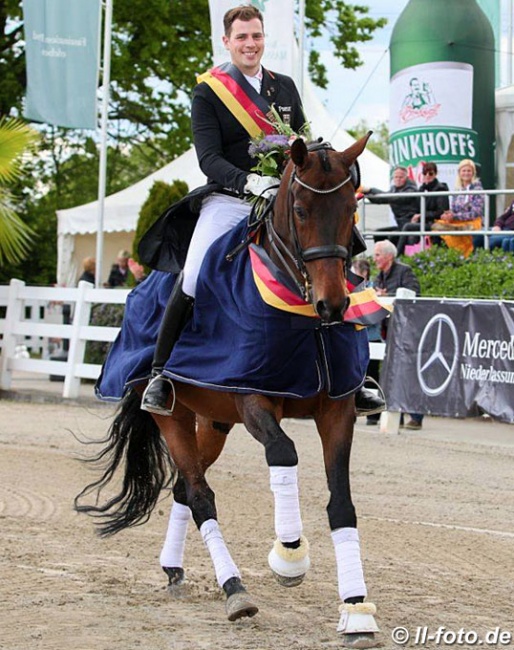 Frederic Wandres broke Heiner Schiergen's long-time subscription to the title of German Professional Dressage Champion. Wandres participated for the first time at the National Championships for Professionals in Unna-Massen on 10 - 12 May 2019 and persevered. 
It was the 25th edition of the "Berufsreiterchampionat" and for the sixth time it was held at equestrian centre Massener Heide in Unna, Germany.
The German Professional Dressage Riders Championships consists of three rounds: the Grand Prix and the Special after which the three best scoring riders move to a Finals with horse change and ride a short Grand Prix test on each other's horses. 
A head rider at Ullrich Kasselmann's yard in Hagen, Germany, Wandres steered Saskia Bauer's 14-year old Westminster (by Weltissimo x Davignon) to victory. The combination was second in the Grand Prix (71.033%), won the Special (72.386%), and in the Finals with horse change scoring a total of 2326 points after three rides in the Short Grand Prix test on his own horse as well as on the two other finalists' mounts, Aaron and Download.
Heiner Schiergen had been the Profi Champion four times in a row, twice already on the 14-year old Belgian owned stallion Aaron (by Florencio x Record), but his third attempt on Aaron led to silver this year. The pair won the Grand Prix with 72.633%, was second in the Special with 72.124% and second in the finals with horse change on 2312.50 points. 
Back on the podium with bronze like last year was Ants Bredemeier on Rainer Kraupner's 12-year old Oldenburg bred Download (b yDon Frederico x Sunny Boy). Shee was third in the Grand Prix (70.933%), fourth in the Special (68.889%) and third in the horse change finals with 2273 points. 
This year 11 riders competed in the Championships, that is one more than in 2018, while there were 16 combinations in 2017 and 2016.
Photo © LL-foto
Related Links
Heiner Schiergen Wins 2018 German Professional Dressage Riders Championship
Schiergen Takes Three in a Row at 2017 German Professional Dressage Riders Championship
Schiergen Renews Title at 2016 German Championships for Professional Dressage Riders 
Marcus Hermes Edges Out Timpe in 2014 German Professional Dressage Riders Championships
Thomas Wagner Wins the 2013 German Professional Dressage Riders Championships
Hartwig Burfeind Wins 2009 German Championships for Professional Dressage Riders
Photo Report: 2008 German Championships for Professional Dressage Riders
Scores: 2007 German Championships for Professional Dressage Riders
Scores: 2005 German Championships for Professional Dressage Riders
Hubertus Schmidt wins 2004 German Professional Dressage Riders Championship