Canada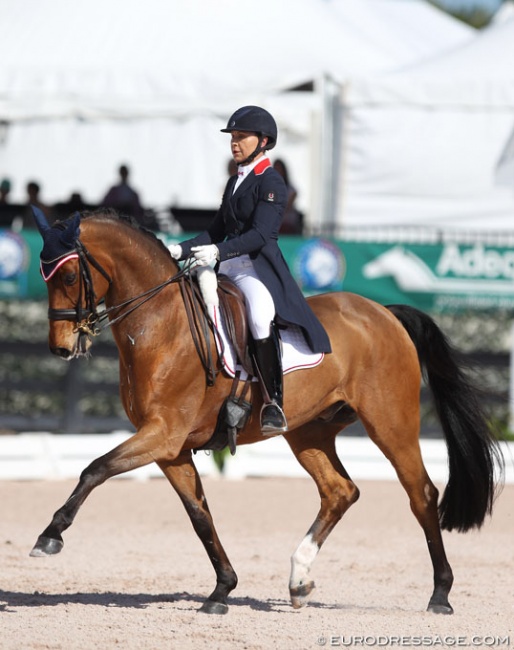 Equestrian Canada (EC) and the Canadian Olympic Committee (COC) have announced the athletes nominated to compete at the Lima 2019 Pan American Games, taking place July 28 - 31 in Lima, Peru.
Canada has fielded a full dressage team for the Pan Am Games.
The Canadian Dressage Team will include a Pan Am return for Tina Irwin, 38, of Stouffville, ON, who already has a team silver medal from the 2011 edition in Guadalajara, MEX.
"I am very excited and honoured to be part of the Pan American dressage team with Laurencio," said Irwin, who has racked up an impressive resume with her mount Laurencio, even setting a world record for the highest small tour score in 2017. "I think we have a very strong team this year and I look forward to working with my teammates to bring home a medal."
Joining Irwin in Lima will be Jill Irving, 56, of Moncton, NB, who is coming off her debut at WEG 2018, as well as two talented rookies: Lindsay Kellock, 29, of Toronto, ON, and Naima Moreira Laliberté of Outremont, QC, who at 22 years of age is Canada's youngest equestrian athlete heading to Lima.
The Canadian Dressage team includes the following combinations
Jill Irving - Degas
Naima Moreira Laliberté - Statesman
Tina Irwin - Laurencio
Lindsay Kellock - Floratina
Reserve: Megan Lane - Zodiac MW
Reserve: Belinda Trussell - Carlucci
The 2019 Lima Pan American Games will prove especially meaningful for the Canadian Equestrian Team (CET) by providing the opportunity for the discipline to qualify for the Tokyo 2020 Olympic Games in Japan.
Historically, the CET has had great success at the Pan Am Games, most recently earning five medals from TORONTO 2015. The dressage team took silver, eventing earned bronze, and the jumping team won gold for the first time since 1987. Individually, Phoenix and Pavarotti were eventing silver medalists, while Chris von Martels of Ridgetown, ON claimed individual bronze in dressage.
"It is an incredible moment for any athlete, in any sport, to be named to the national team for a major games," said Jon Garner, EC Director of Sport. "The hours spent honing their craft to get to this point are likely immeasurable, and for the most part started as a child on a pony. The athletes selected to represent Canada at the upcoming Lima 2019 Pan American Games have done everything asked of them and more to get this far. This is step one."
"Though the CET has a different makeup for the first time in a long time, I have the utmost confidence in this group to achieve the goal of qualifying for the 2020 Olympic Games in Tokyo," Garner continued. "It will require single-minded focus from athletes and support teams alike, and I have no doubt that these teams will produce podium performances in Peru."
Lima 2019 will bring together approximately 6,700 athletes from 41 nations of the Americas and feature 62 disciplines in 39 sports. It will be the largest sporting event ever held in Peru.
Photo © Astrid Appels
Related Links
Lindsay Kellock Aims for 2019 Pan Ams in Peru and Dreams of Tokyo
Tina Irwin Sidelined Due to Hand Injury
Guatemalan Team Selected for 2019 Pan American Games
Colombian Team for 2019 Pan American Games Selected