2019 European Pony Championships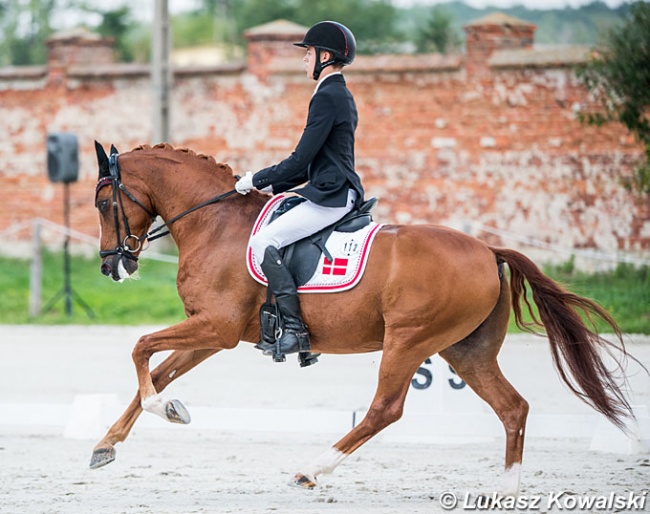 The Danes continue to dominate the 2019 European Pony Championships in Strzegom, Poland, as the competition continued on Friday 16 August 2019 with the first group of riders contesting the individual test. 
It was a 1 - 2 - 3 for Denmark with Helgtrand, Nielsen and Thomassen provisionally ranking in the top three medal earning spots. 
Thirty riders competed in the individual test today with two withdrawn before the class. Judges Graham, Hillier, Tornblad, Tissot, and Ebert officiated. 
Fifteen-year old Alexander Yde Helgstrand and the 13-year old Danish team routinier Adriano B (by De Angelo B x Flying Dream) posted a whopping 78.216% to take a strong lead in the Individual Test. Three judges placed the pair first; two had him second. The individual scores ranged from 77.162% (Hillier, Tornblad) to 81.351% (Graham).
In preparation of the 2019 European Championships, Helgstrand junior not once traveled outside Denmark, but secured his team selection at three CDI's within Denmark: in Aalborg, at his home show in Uggerhalne and in Aarhus. While he was a triple silver medalist at the 2018 European Pony Championships in Bishop Burton, this year Helgstrand is giving it his all for gold in his final years on ponies. The soon-to-be 16-year old has already been competing at international junior riders' level on Grevens Sa Va.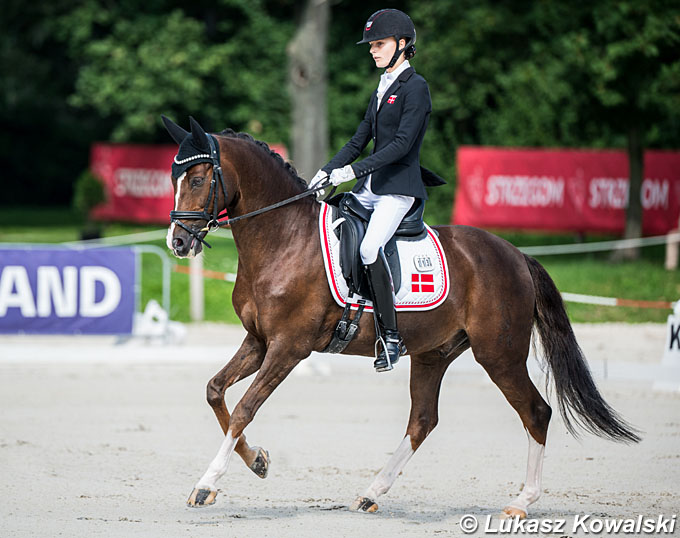 Adriano B is showing at his fourth Europeans with his third rider. The chestnut German Riding pony took Karoline Rohmann and Claudia Kjaer to their first continental championships. Rohmann went on to represent Denmark at the 2017 European Junior and 2018 European Young Riders Championships, but Kjaer stopped competing international after her pony career ended in 2017.
Danish Liva Addy Guldager Nielsen and the 13-year old gelding D'Artagnan (by FS Don't Worry x Colano) are in a provisional second place with 77.351%. She ranked first with one judge, second with three judges and third with one judge. Her marks ranged from 75.270% to 78.919%. Fifteen year old Nielsen is in her penultimate pony year and has been riding D'Artagnan for two years, taking over from Kristian Wurtz Green.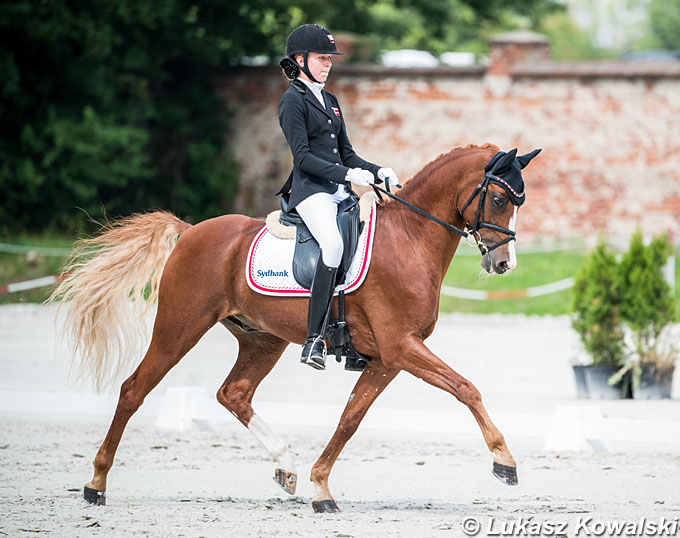 Danish Nathalie Thomassen and the 10-year old Danish bred Lykkehoejs Dream of Dornik (by Melli's Dornik x Cupkehof's Winobert) landed a provisional third place with 75.703%. She placed between second and fourth place but her marks ranged quite substantially from 72.973% to 77.297%. For 14-year old Thomassen her first year at international pony level has been beyond stellar. The pair made a winning CDI debut in April at the CDI Sint-Truiden, and from there went to Aalborg, Uggerhalne, and Hagen.
Only one German combination drew to ride in the first group for the individual test and she landed a fourth place. Lana-Pinou Baumgürtel and the 14-year old Massimiliano (by Monsun P x Cap Cennedy N) scored 75.243% for fourth place. The judges were very divided on this pair's test with Tornblad having them at 72.432% (5th) and Hillier at 79.189% (1st). The buckskin Massimiliano is now on his fourth rider at international pony level. He made his debut with Hannah Cichos, then served as Liselott Marie Linsenhoff's ride before selling the Baumgurtel family. Under Lucie-Anouk he became the 2016 and 2017 European Pony Champion but at the 2018 Europeans he was unsettled in the Bishop Burton arena and performed far below par. Lana-Pinou took over the ride this year and immediately made it on the German team.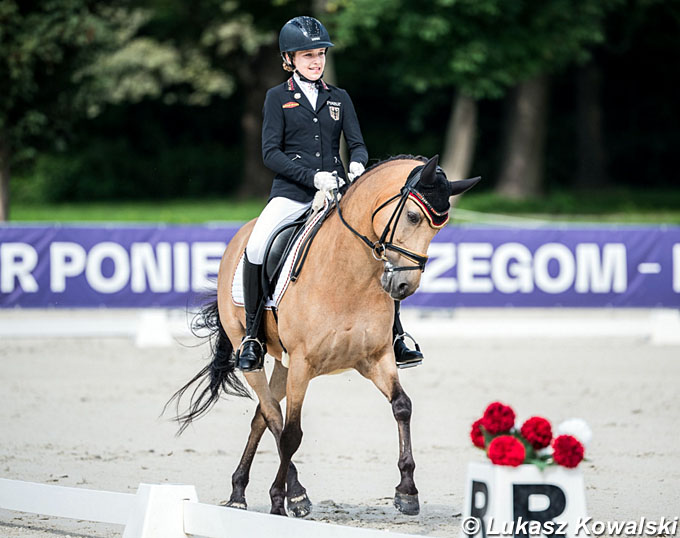 Dutch Evi van Rooij and the 10-year old King Stayerhof's Jango (by Kosmo van Orchid's x Jacobpeel's Rocky) completed the top five, provisionally, with 73.081%. In the team test they were Holland's scratch score, but the combination bested team mate Floor van der Kuijl on Champ of Daily today. Van Rooij, who was selected for the 2018 Europeans in Bishop Burton, but had to withdraw last minute due to an injury, has her revenge this year in Strzegom. They scored 73.081% in the individual test. Van der Kuijl and her 12-year old mare Champ of Daily (by FS Don't Worry x Scapino BB ox) are standing sixth with 73.054%.
Text by Astrid Appels
Photos © Lukasz Kowalski - Image Gallery from the 2019 European Pony Championships on Facebook
Related Links
Scores: 2019 European Pony Championships
Eurodressage Coverage of the 2019 European Pony Championships